The Mystical Macaron
Macarons. I don't like them. I want to like them. I have tried to like them. I have tried to like them so much that I am blogging about them but I.. just..don't. On occasion, when presented with the opportunity, I will take a nibble. Hoping that somehow a fledgling taste bud will have popped up somewhere in my mouth, finally gratifying my need to like this flaky, chewy treat. Call me crazy, but somehow I feel I would be a cooler person if only I liked macarons. So far, no such luck.
Yet I am forever inspired by this ….cookie. Really, a cookie? Actually, it is a wee bit of an obsession. Whenever I travel and pass a bakery, I just have to peer in the window for a quick visual fix. Perhaps it can be chalked up to my love of all things French? Really, I just adore their rich saturated colors, the neat little rows, cookies all snuggled up together. I mean, who doesn't like looking at a box of macarons? They are always packaged so beautifully, as if they are just waiting for all the beautiful people to come buy them and whisk them away. If I were a macaron, I would be stuck up….because I could be.
So, I will wait patiently for my palette to step it up and delight in this little piece of culinary perfection. In the meantime, I will pay homage to the mighty and mystical macaron the only way I know how…. by championing its beauty, its history, and the culinary creativity inherent in its making.
Some tasty Macaron facts:
I once heard that every 7 years, your taste buds change. If that's the case, there is still hope for the macaron and me to rendez -vous. Is this true? Must investigate…
The history of the macaron (originally an Italian cookie) dates back to the marriage in the 16th century of Catherine de Medicis to the Duc D'Orleans, King of France. So blah, blah, blah, macarons eventually became known as a French cookie, but as you see, they have a royal background. I told you they should be stuck up.
Consensus is that Laduree in Paris is THE place to go for macarons. Reviews pretty much sum up that they are wonderfully delicious, the epitome of inspired culinary flavor combinations and the packaging is dreamy. Since the closest I will be to Paris anytime soon is more likely to be Paris, Texas, I did a little investigating. You can order Laduree macarons online through Goldbely, https://www.goldbely.com/laduree. Or, if you are jetting around the states and happen to be in New York, DC, LA, or Miami, you can find a Laduree bakery and get up close and personal with these famous French cookies.
Ally and Eloise Bakery in Columbia, SC, my hometown, makes beautiful macarons and by all reports are delicious. She also offers a 25% discount on Macaron Mondays. Find her at https://www.allyandeloise.com.
Many independent bakeries make macarons, so check with your local bakers.
Images courtesy of The Die Line – Gourmet Baking – The Proper Blog – Deer Pearl Flowers
Let's Talk Turkish
A modern twist on those after shower essentials…
What every woman should have on their bathroom hook as they step out of the shower is a …. no, not a fluffy towel and your favorite robe. Let's mix it up a bit with a Turkish towel and a lightweight cotton sarong. But before you worry that you just can't part with that teddy bear of a towel and and your morning uniform, let me tell you why this is my go to!
Here's the secret : Turkish towels are amazingly absorbent.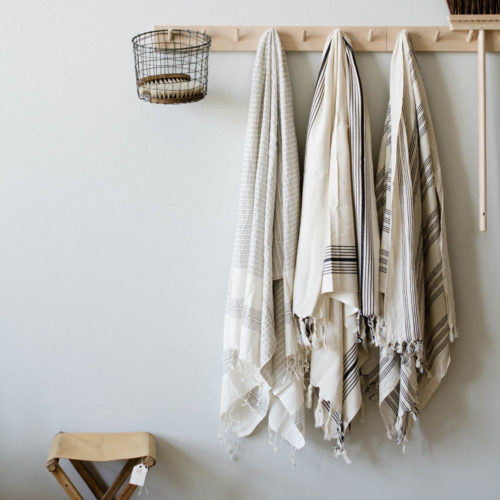 Granted they may take a little getting used to because they aren't as fluffy as their traditional counterparts, but if you make the switch you may never go back. The Turkish towel just soaks up the water off your body like a greedy little sponge, while the traditional towel sometimes rubs the water around while you're trying to soak up and dry your little tush. And of course, I just can't resist their chic and exotic details. The sassy fringe and subtle color and stripe combinations makes them the show off of towels. I have to admit, on occasion I like a show off… much easier to get away with if you are a towel.
The cotton sarong or pareo is now my go-to instead of even the lightest weight robe. Who hates sweating while they are getting ready for work or going out? Me too. And for those of you who have at some point made the acquaintance of a hot flash, you now can fight back with just a cute little swath of cotton. Just tie on the sarong strapless dress style or crisscross and tie behind the neck and you've scored a three for one deal…good coverage, sweat free primping and yes, you guessed it, style points! And wait, there's more. These little beauties pull double duty as your beach cover up and can be styled so many different ways. Seriously, I have a vast collection of these and they last for years! Ok, this is beginning to sound a bit like an infomercial so let me just leave you with a few sourcing tips and fun style pics and then I can move on to ginsu knives and bamboo steamers. Ba ha ha. 🙂 (google it if you are too young to get that one).
For Sarongs:
Graham Kandiah – (pronounced can-dee-uh) I love that name…. She has moved on to other things but you can still find her pieces on Ebay or Poshmark….Snatch them up and I promise you will not be disappointed!
Another great online source for Indian cotton pareos and sarongs is West Indies Wear. Shop here: https://www.shopwestindieswear.com/collections/beach-sarongs?page=2
For Turkish towels:
MACK Home – Our website is currently being updated but we constantly carry these popular towels. Feel free to give us a call, we are happy to ship! 803-790-9911, mackhomecolumbia.com
Image Courtesy of MurLifeStyle – Jcrew – Carrie Bradshaw Lied – QuiQuattro – Revolve – Perpetually Chic – Living Nectar – Jones Design Company
Desert Chic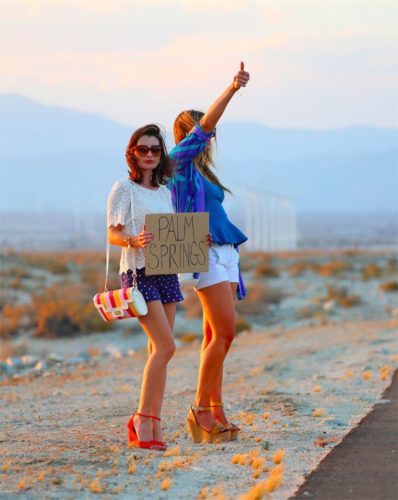 A little stream of consciousness event was my inspiration for Desert Chic. I recently saw an Instagram post of a bunch of oranges, oranges showing off an array of luscious, citrusy color, which got me thinking about one of my recent "I Forgot to be Her" Instagram posts. This particular post featured a woman in a fabulous orange frock walking by a fabulous Palm Springs white mid-century house, which in turn made me design this Palm Springs room in my head, which then made me start creating Palm Springs-inspired outfits in my head. My head gets kind of crowded sometimes, and I think in run-on sentences. Put pen to paper. Make more room in head.
This is where the lines start to get blurry which you know are my favorite kind of lines! The bright and bleached desert hues and the rich textural array serve as the perfect muse for interiors and fashion, architecture and art. Don't have a house in Palm Springs? Not headed there any time soon? Me neither. But I love, love this look for a beach house, in a sun room or a covered outdoor living area. On the fashion front, your wardrobe combinations and possibilities are endless. You will never go wrong looking to the natural world for creative inspiration. So mentally transport yourself to the Palm Springs desert and channel your inner sponge. Soak in all of that sun and sand, bright color and tactile inspiration. Going Desert Chic is easy. Just start with:
A PALM SPRINGS INSPIRED COLOR PALETTE
Chalky white
Bright orange
Orangey pink or coral
Sandy beige
Cactus green
DESERT CHIC FOR THE HOME
Remember to use a strong and varied mix of textures with your Palm Springs Palette, and you have the tools to create your own little desert-inspired oasis right in your own home! Here we have velvet and linen, hide, bleached wood and bone, sisal and brass. Choose something you are naturally drawn to as your leading inspiration and build from there. In this example, I loved starting with my favorite Lee Industries curved sectional sofa. Beginning with a neutral foundation for the main upholstered pieces is my favorite jumping off point in designing a new space.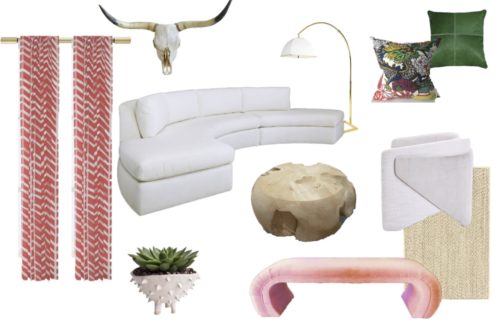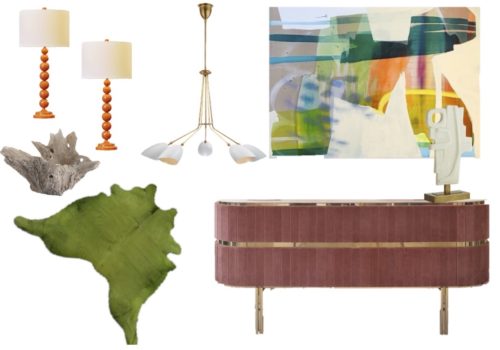 DESERT CHIC FOR THE CLOSET
Same process applies here. Experiment with the full tonal range of the colors in your Palm Springs Color Palette and a varied textural balance for your wardrobe pieces. Use the chalky whites and sand tones as your foundation and then add in just one color for a minimalist look or multiple hues and textures for a more bohemian or bright vibe. Multiple outfit combinations will emerge.
See pics below for a desert chic inspired look straight out of the closet. These pieces are simple and will take me from day to night which is huge for me. I often don't have time to change between the work day and client meetings to a work dinner, dinner with hubby or a girls night out. A white tee and jeans is the foundation, and I added in a ton of sand colored beads, a bright orange jacket and fun colorful platform sandals. For evening, I can change the tee to a silky cami and be ready to hit the town!
See style shots below for a little inspiration and start experimenting with this fun and funky color palette. You will be well on your way to desert princess before you know it!
Photos courtesy of Popsugar – Flory Day – Late Afternoon Blog – O Shop Live – Free People Blog – Harper's Bazaar – Crush Cul De Sac – Viva Luxury – Preppy Girly Girl – Adore Magazine – Pinterest