Blue Jeans & White Shirts
The most basic of outfits, the easiest pairing to pull out of your closet. The BLURRED LINES of this classic duo are practically dizzying with possibilities for all age groups and personal tastes. So how do you MIX IT UP to create multiple go-to outfits from this quintessential combo ….by getting creative with what you MIX IN.
Closet Essentials
Lets start with an AK Atelier list of closet essentials:
Jeans, of all style – high waist, mid rise, low rise, with and without holes, raw edge or hemmed, cropped and full length. Build up your arsenal here!
White button downs, one classic cut and one a little longer.
Silky white tops – long sleeve, short sleeve and a lacy white cami.
Cropped jacket. Leather or faux leather for the colder months, lighter weight fabric for the warmer months.
Blazer
Vests – leather, faux leather, shearling and/or fur, short or long. These add great texture and that extra style punch. Try a long microfiber or ultrasuede for a lighter look.
White tees. V neck and Crew neck. As many as you can get your hands on.
Chic flats
Booties and/or knee boots
High heel pumps and strappy sandals
Flat sandals
Block heeled or flat loafers and/or brogues
Block heel pumps or sandals
Athleisure shoes
Belt
Want Some Outfit Examples?
Go biker chic by pulling out your holey denim, adding a leather jacket and motorcycle boots or your favorite rock stud booties. Any white top will do, but for a sexier look for evening, go with the silky white cami. Think "more is more" with the jewelry by piling on multiple chunky brass necklaces and leather chokers, metal or leather cuffs mixed with bangle bracelets. Take along those stiletto pumps or strappy high heel sandals and you can are covered from dawn til dusk.
Go more more tailored with a crisp white button down or silky top and throw on a blazer. Tuck the shirt in or let it hang out beneath the blazer or do a half tuck for a more relaxed look. Don't forget your belt. Keep it sassy by layering in beaded necklaces of varying sizes. Finish up with the feet in a chunky heeled loafer, a cool brogue, knee boots or pointy toe heels.
Dress down for casual Friday or Saturday shopping with your denim, a white T, your favorite belt, and platform tennies. Pull hair into a chic ponytail, add hoop earrings, and you are ready for brunch and errands. Throw some chic pointy flats in your backseat with a cropped jacket or trench coat, and you have just taken laid back brunch garb to dinnertime chic.
Experiment with any of the above basics or combos, and you are well on your way to creating your signature looks. You've got the tools, so start building! Here's how I have added in to this basic combo to create my own look…. by layering in mixed metal and bone beaded necklaces, a lacy white cami, and a navy military-inspired jacket. The retro loafers really can go day to night, but I have some fabulous red, strappy, lace-up high heel sandals if I want to kick it up a bit for a night out. If I want to funk it up even more as I head out, I can make a simple switch to boyfriend or holey jeans, creating a more casual but very chic look. The options are endless and virtually foolproof. And check out the street style shots as well for some great inspiration. Comment below with your ideas or post your new looks and tag @anna.kemper.atelier!
Have fun!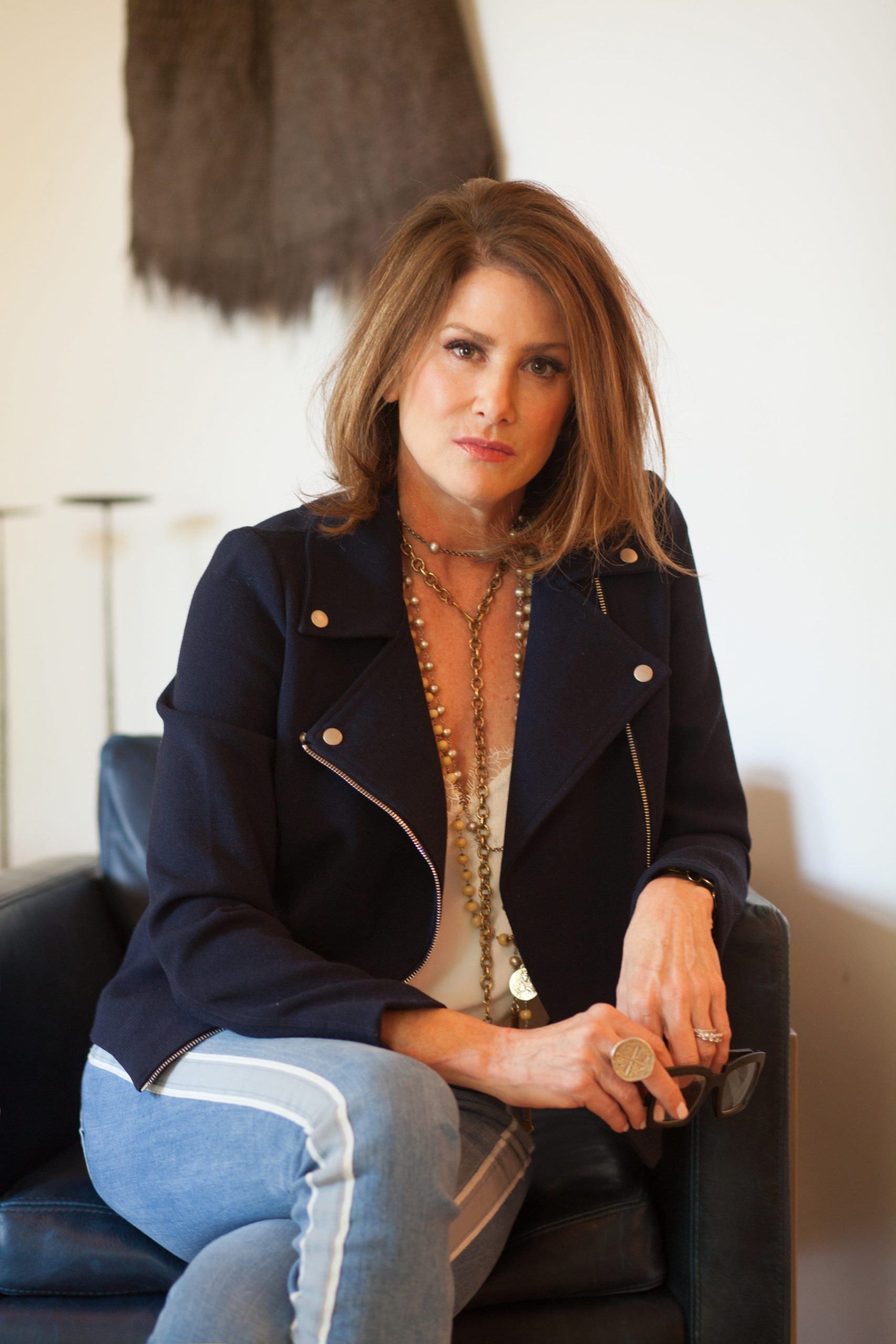 Style Splurges
If you are able and so inclined, splurge on a few foundation elements for this look. I would say the shoes, belt and jacket/blazer/vest layering pieces. They will last forever.
1. I just recently scored a Gucci belt on Poshmark for a fraction of the retail price. It will be a staple for years to come.
2. We had a little incident in my family we like to refer to as Shoegate. I now can look back and laugh, but long story short, every single pair of my prized shoe collection was accidentally donated. Before it was happily and luckily resolved, I did end up with an awesome pair of Gucci retro-inspired red white and blue patent loafers that I have worn over and over and will continue to for years. They are literally a show stopper. I can't walk 20 feet without someone commenting on them. It was kinda worth it.
3. I bought a cropped shearling vest at one of my favorite stores in Charlottesville, Virginia, @thinkscarpa, about 5 years ago. It was a major splurge for me, and I still wear it to death. Well worth the investment.
Not a splurge kinda gal? No worries, there are endless fast fashion brands that give you the same looks and don't put a drag on your pocketbook. Check out Zara, H&M, ASOS, and Nordstrom Rack.
Images Courtesy of Pinterest – Pinterest – Everlane – Cleantechagency – Portugal Shoes – Shape – Liliana – Ssense – Browns – Sole Society – Pinterest – Es La Moda – Scarpa Rosa – Couturezilla.com – theyallhateus.com – sayyes.com – harper's bazaar – lookastic.com – coolchicfashion.com
HIGH MAINTENANCE….A HAIR STORY
Problem – Curls gone wild
I have REALLY high maintenance hair. Naturally wavy and curly hair is beautiful on many people. Me? Not so much. If I don't blow-dry my hair or, heaven forbid, I sleep on it wet, my natural waves and curls take on a life from another planet. The same situation applies if I go to the beach. That first morning glance in the mirror reveals not soft ringlets and piece-y waves, instead I behold patches of frizz, curls gone wild, a rogue horn or two and some kind of bouffant-do gone way wrong. I just like to look at that girl in the mirror and say, and I do it very politely, I.DON'T.KNOW.YOU. But, alas, my good friend denial turns out not to be so helpful on the hair front because my days are crazy and if I'm lucky my nights may be too! Got to have good hair….what to do?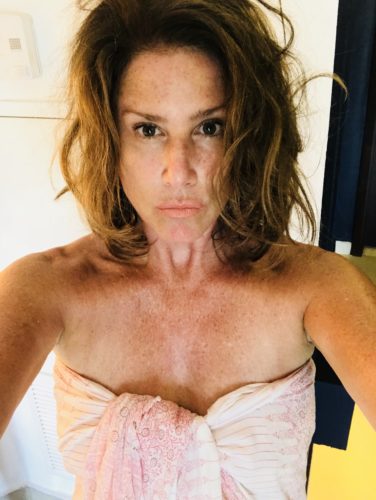 AK Atelier Solution
OUTSOURCE whenever you can. I don't have the kind of hair that has to be washed every day, so I go to Kim for a blow out once a week. She has been doing my hair for over 20 years. We don't have to discuss a thing. I just plop down, and she works her magic. Puts a little drag on the pocketbook, so I try to make it last as long as possible. If I put a value on my time, for me it is more cost effective to have several good hair days là Kim than spend gobs of time trying to wrangle this wild hair myself. Plus, who doesn't feel good after a blow out?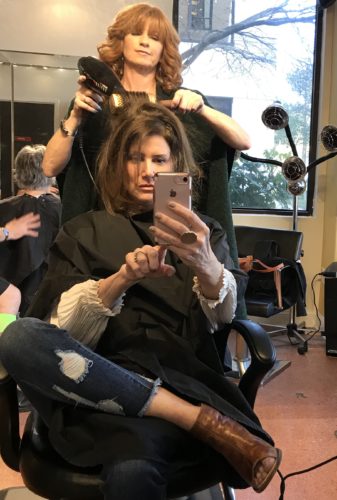 Total Gamechanger
Now I am a real human with tamed hair that can be seen outside the confines of my house. I love taking Kim's blow out and making it my own by keeping it piece-y and messy, see below. Always fluffing and touching for maximum volume!
Ahh….Much better. Love that Kim.
BUT since I don't see a daily, personal hairdresser in my future any time soon (wouldn't that be great!), I have found some great PRODUCTS that help me get that freshly blown out look as best I can. And believe me, I have tried everything. My go-to's are pictured below, and I have an arsenal of them. I can wage war on this head of hair with these great lotions, potions, sprays and tools any day, or at least on a non-Kim day!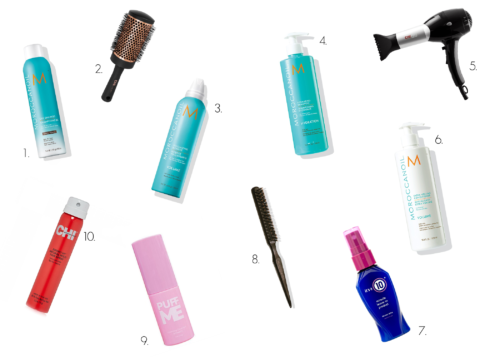 1. Moroccanoil Dry Shampoo – $26.00
This works wonders. If I want to stretch out the professional blow out a little longer, just give this a try. I think it is far superior to other dry shampoos.
2. Chi Large Round Brush – $18.74
3. Moroccanoil Volumizing Mousse – $28.00
4. Moroccanoil Hydrating Shampoo – $40.00
5. Chi Pro Hair Dryer – $159.96
I have found that a hair dryer is not a hair dryer is not a hair dryer. Invest in a good one. Well worth it!
6. Moroccanoil Extra Volume Condition – $43.00
7. Miracle Leave-in Product – $12.33
8. Moroccanoil Boar Brush – $26.00
9. Puff Me Volumizing Cloud Mist – $17.54
This is a texturizing powder that is small enough to put in your handbag. If your hair needs a little body at the end of a long day, you just shake a little of this on your roots where you want a little lift and run your fingers through. Works wonders.
10. CHI Enviro Natural Hold Hairspray – $6.93
Would love to know what works for you other hair challenged peeps? Please comment below with any product or styling tips. After all, more hair knowledge = more hair power!
Pasta for the Culinary Challenged
AN AK ATELIER KITCHEN SHORT STORY
Those of you who know me or who also are culinary challenged will get a little chuckle at my posting anything cooking related. But hey, remember AK Atelier is all about blurred lines, which means even I can cross over from the dark side of the kitchen to the light where all you talented chefs hangout. My family was out of town, so on a whim I decided that I would try to create a meal out of what was currently in my pantry and fridge. If it was bad, I wouldn't have to feed it to anyone else, and my fragile little chef-ego would remain intact. Well, guess what? It actually turned out to be quite tasty.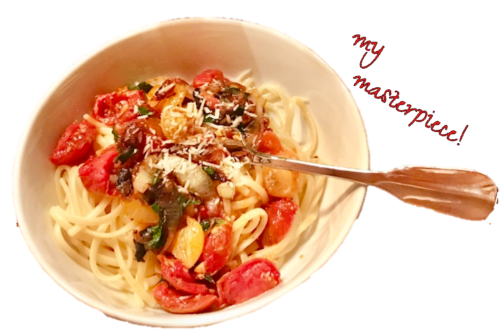 I know, it's a damn miracle.
Anyway, I am sharing my novice Italian-inspired recipe here in the event there are others out there looking for a little self esteem boost when they walk into what is definitely the most fear inspiring room in my house….the kitchen.
Ingredients
2 cloves garlic, peeled
2 handfuls of fresh tomatoes. I had a bunch of mixed little yellow and red cherry tomatoes and 2 small heirlooms on hand that were on their last leg
Fresh basil (well, close to fresh)
1 medium to large onion
Olive oil
Linguini. Healthwise, I should have used whole grain but had to go with what was on hand.
Shredded parmesan cheese
Red pepper flakes
Salt and Pepper
What I Did
First I poured a glass of red wine….for me, not for the recipe. Needed a little liquid courage in this endeavor. Next I sliced the garlic cloves in very thin slices. Then I sliced the onion and chopped the tomatoes. I wiped off the basil with a damp paper towel and used scissors to cut it in pieces. I filled the pasta pot with water so it would be ready to go. Then I dumped some olive oil in my other pan and heated it on about medium, added the garlic and onion and stirred it around a little while sipping on my wine. When the onions were getting soft, I added the chopped tomatoes and stirred them around a little. It was starting to smell good, so I put the pasta on to boil. Sip sip, stir stir. I remembered the red pepper flakes which were probably supposed to go in earlier, so I added them and then the basil. Added a touch more of olive oil and played around with it a bit until the linguini was ready. Next I drained the linguini, tasted my sautéed concoction and was pretty pleased with myself. Sip, sip. I added a little salt and pepper and more red pepper flakes and decided I had better quit while I was ahead. Pulled out a plate and put the linguini on it, topped it with my vegetable mixture, added some shredded parmesan, and my masterpiece was complete. Lastly (and most importantly I might add) I topped off my wine, poured a glass of water and sat down to my meal. This last minute supper is now a keeper in my fledgling recipe box and should be in yours too!
Future Goals
Slowly start to fill sad little recipe box with more easy meals.
Make sure all meals I attempt are healthful.
Share any culinary successes with you!
Give this one a try, post your results and tag @anna.kemper.atelier! Or please comment below with any easy recipes you may have for the culinary challenged! XO…Anna
New York Stories (Adventures with Jenny)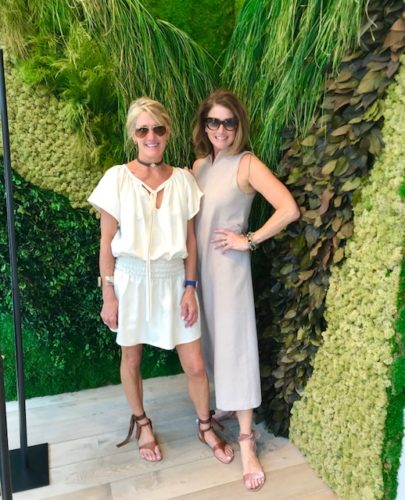 As Frank Sinatra crooned, I want to be a part of it…..
Truer words were never spoken about my feelings for New York. Yes, yes…soon, often, always and forever! I will never tire of visiting this iconic city, this American institution….this city that thankfully never sleeps. And there was not a lot of sleep to be had for Jenny and me on our recent jaunt to the Big Apple in honor of her 50th birthday. We were on the move!
I'm no Woody Allen….probably a good thing…but to me anyone's New York stories are share worthy and need to be told. I always want a blow by blow account of my friends trips to the Big City…the hot new restaurants as well as the tucked away little eateries you just stumble upon that turn out to be hidden jewels. Regale me with your best shopping spots, which Broadway shows lived up to expectations and, of course, OF COURSE, all celebrity sightings. So nothing deep here, just a little travelogue of the spots we hit, the ones that have become traditions and therefore special for us, as well as the funky new finds and quirky moments. So if you too like New York stories, enjoy!
1st stop is always Locande Verde (@locandeverde) for a champagne lunch or boozy brunch. This fabulous restaurant never disappoints. It is in TriBecA, attached to the Greenwich Hotel, which was founded by actor Robert DeNiro. If you wander into the lobby and seating rooms of The Greenwich while waiting for your table you can view part of Mr. DeNiro's collection of his father's impressive artwork. When time to eat, opt for the garlic chicken; it's melt in your mouth crazy good, and definitely start with the sheep's milk ricotta and crostini. AMAZING!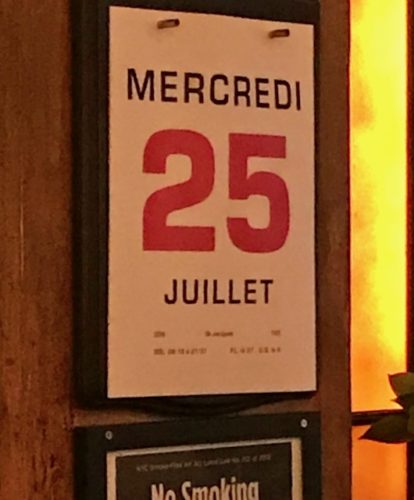 Really we just walked around TriBecA and SoHo after our 4 hour lunch. Let's just say we needed to take a little break. Then we wandered into Balthazar (@balthazarny) an old standby and favorite of many, when we got hungry again. I always have to get a French fix, and here you have an authentic French brasserie experience. Pomme frites are delish. This place is lively, loud, bustling and crowded in a good way. Love it!
The next morning we popped up….well we didn't really pop up. We slowly arose and treated ourselves to coffee, diet cokes and a lot of ibuprofen. Then we started popping…sort of 🙂 We hailed a cab and headed north for a little midtown shopping at the 2 B's…Barneys and Bergdorfs. The traffic was horrendous and the cab ride supremely jerky. I realized about half way there that this cab ride, my champagne headache and questionable tummy status were really starting not to get along. So I yelled. Really loud. More like shrieked. "Stop! OMG! Let me out! We will walk!" We bolted out of the cab before things got ugly and luckily landed smack dab in front of a NY pizza walk-in. Jenny was so quick to the rescue that is was almost spooky. Before I knew it, I had a NY slice in hand with a cold ginger ale. Well, that did the trick along with a bit of fresh air from walking the rest of the way. I was all patched up, good as new, ready to conquer the stores.
We had a full day of very successful shopping and as usual, started getting punchy and giggly as we are known to do when together, as in aren't we funny in this fitting room pic wearing twin dresses standing in ballerina 1st position. Only we think we are way funnier than others do, but really we don't care. We thoroughly amuse ourselves, and that's enough for us. Speaking of twin dresses, thank goodness we do not live in the same city, because we would see ourselves at the grocery store and at parties constantly. We buy a lot of the same things!
Dinner that night was pizza and a movie in our hotel room, as we had overdone it a tad the day before. Snoozy snooze, sun comes up andthis time we really did pop right up, dressed, grabbed an Uber and headed to the West Village for what is quite possibly the best breakfast to be had anytime, anywhere. Buvette (@buvettenyc) has become another sisterly tradition, and I never miss it when in NY for work or play. Never, ever. Snag a seat at the bar, I prefer it over a table, and watch in awe as they turn out the most amazing French breakfast from the tee-tiniest space you can imagine. Everything is utterly delicious, but make sure you start with the cranberry toast with melted butter and bee pollen. It is a little slice of heaven served up up on a plate. Not to be missed!
Buvette is just off of Bleeker Street in the West Village, where you will find great boutique shopping. A few favorites we hit were Sandro, Maje, Cynthia Rowley, and BA|SH. We both got the black sandals, Jenny got the black faux fur bag, I got the ivory one, and I was oh so happy to find this vintage inspired white lace @cynthiarowley dress for a throw back, retro-style party I have coming up. Felt very Jackie 0-ish even though I could barely zip it up. Better double up on the workouts this week!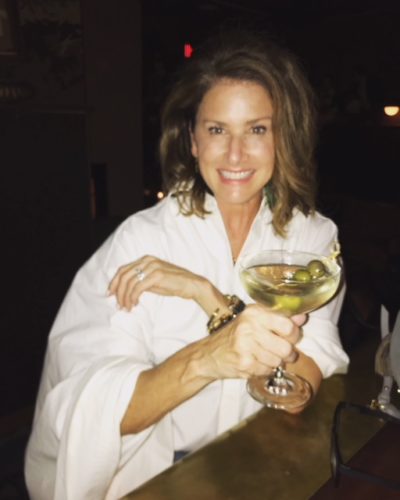 We shopped all day in the West Village and Soho and then headed back to our hotel, quickly changed and freshened up in our room and decided for dinner we would try Little Park (@littleparknyc), the restaurant in our hotel, as we both had heard great things. The food was yummy, the atmosphere subtly chic, and it is a happy new addition to my New York restaurant list. Of course we made a little detour on the way for a pre-dinner cocktail at the sleek, mod bar at The Smyth Hotel where we were staying. They make a mean dirty martini if you are a fan. Highly recommend!
Soooo, it was our last night and never ones to go down quietly, after dinner we decided to take our middle age selves to a local bar around the corner and continue our fun. As you can see we were kind of in a "strike a pose" mood. The bar was crowded and fun and all about country music which was a fitting final destination for the Amacher girls, as we are Nashville natives. We had a couple of cold beers, felt a need to demonstrate that Budweiser and Gucci loafers can indeed coexist, and then called it a night.
Why does it always go by so fast? It just does, doesn't it? Here we are headed to the airport in our perma-tails, wrinkled clothing, feeling happily exhausted. Sister time is incredibly special to Jenny and me, and we always make time for travel to visit each other. But our summer New York trip is always one for the books. Or one for the blog in this case! Please share your favorite haunts and New York moments below. Remember, all New York stories need to be told.
Interested in any of the pieces shown above? Shop some of these pieces and similar looks below!