Easy Party Outfit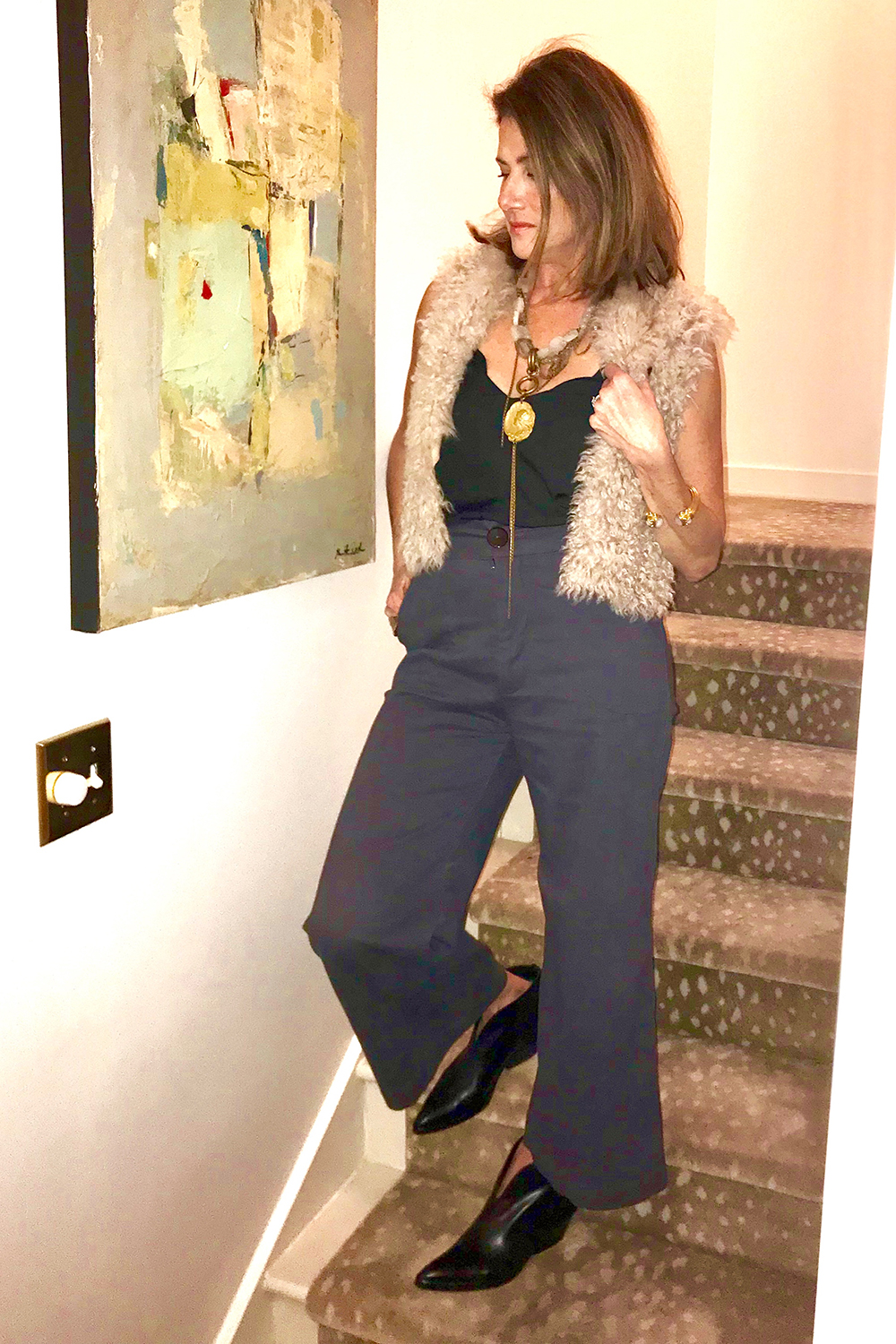 Throw on and Go!
The staples here are the high waisted cropped trousers and these kick-ass boots, my newest acquisition, and the shearling vest. What I love about this outfit:
hese boots are very "of the moment", with the pointed toe and low heel, and easily go from day to night. They are western inspired while still being "biker chic". Super comfy too!
The high wasted cropped, flare trouser is all the rage and holds things in where they tend to want to be a bit poochy, especially after holiday feasting! Need I say more?
Everyone should have a short shearling or fur vest (faux is fine!). Seriously, I splurged on this one probably 5 years ago, and my friends tease me about how much I wear it. If you don't have one, take advantage of the post-Christmas sales and snag one up. I have selections for you to shop below!
I styled this with a black cami from @freepeople that I have also had for years and one of my favorite necklaces, a Roman inspired coin number that has a funky edge with a haphazard chain detail.
Artfully mixing various styles into a cohesive, chic "go-to" outfit is the take away here. I know I sound like a broken record if you have read my other posts, but "blurred lines" are all over this get-up! Good for all ages, forgiving to various body types, and appealing to most tastes checks all the AK Atelier boxes for your date night, girls night out, New Years party or hostess- with-the-mostest for a last minute happy hour gathering at home.
Want to go shopping now? I have included lots of selections below. Couple of things to note…these exact boots are available and on sale, these trousers are from this season, but I was not able to link this exact pair. They are pretty basic though… cotton, high waisted and cropped, so I found easy substitutes. My vest and cami are basics I have had for years, but here I have also selected great subs. Same goes for the necklace. Happy shopping and let me know if anything works for you.
xo|AK