Easy Party Outfit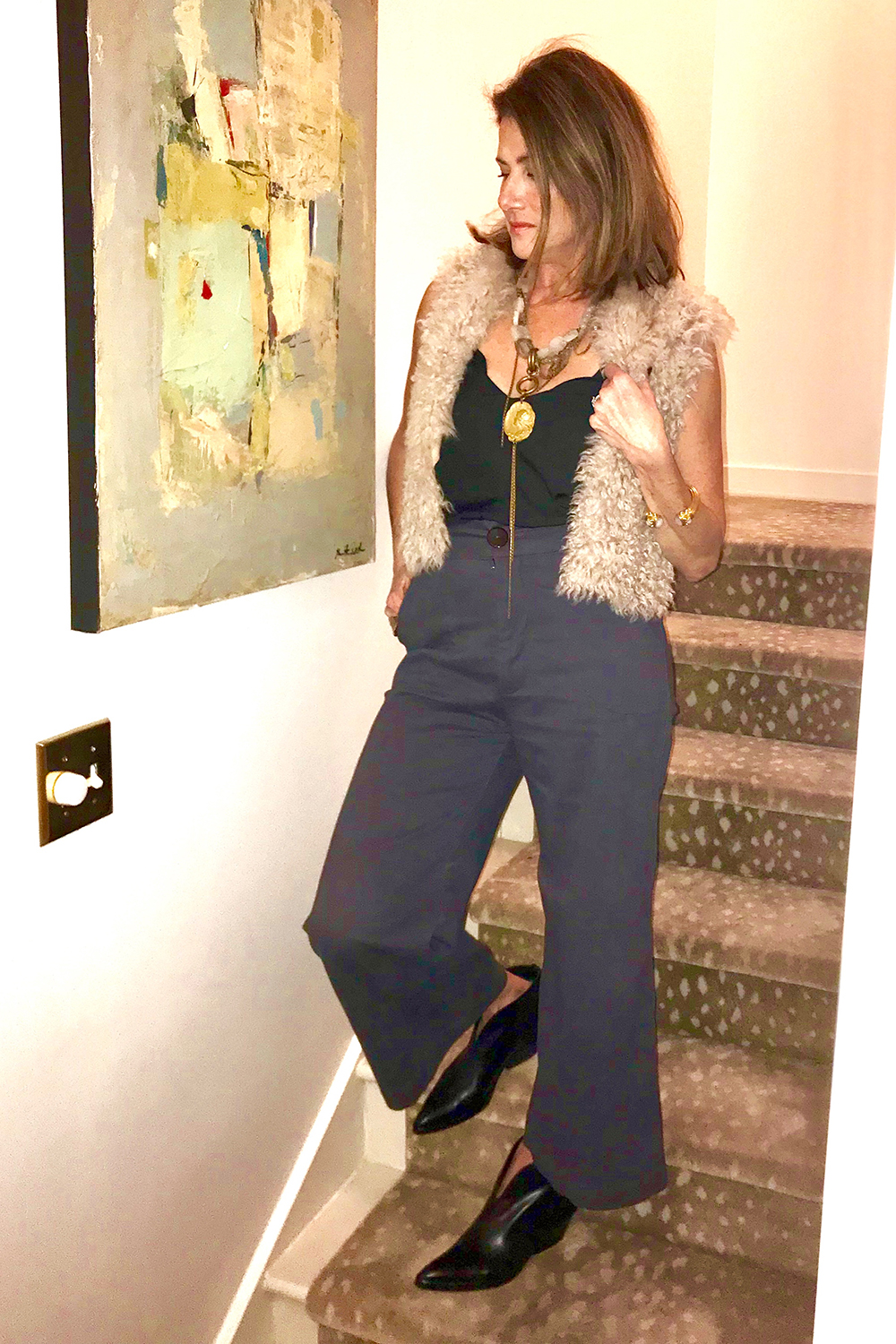 Throw on and Go!
The staples here are the high waisted cropped trousers and these kick-ass boots, my newest acquisition, and the shearling vest. What I love about this outfit:
hese boots are very "of the moment", with the pointed toe and low heel, and easily go from day to night. They are western inspired while still being "biker chic". Super comfy too!
The high wasted cropped, flare trouser is all the rage and holds things in where they tend to want to be a bit poochy, especially after holiday feasting! Need I say more?
Everyone should have a short shearling or fur vest (faux is fine!). Seriously, I splurged on this one probably 5 years ago, and my friends tease me about how much I wear it. If you don't have one, take advantage of the post-Christmas sales and snag one up. I have selections for you to shop below!
I styled this with a black cami from @freepeople that I have also had for years and one of my favorite necklaces, a Roman inspired coin number that has a funky edge with a haphazard chain detail.
Artfully mixing various styles into a cohesive, chic "go-to" outfit is the take away here. I know I sound like a broken record if you have read my other posts, but "blurred lines" are all over this get-up! Good for all ages, forgiving to various body types, and appealing to most tastes checks all the AK Atelier boxes for your date night, girls night out, New Years party or hostess- with-the-mostest for a last minute happy hour gathering at home.
Want to go shopping now? I have included lots of selections below. Couple of things to note…these exact boots are available and on sale, these trousers are from this season, but I was not able to link this exact pair. They are pretty basic though… cotton, high waisted and cropped, so I found easy substitutes. My vest and cami are basics I have had for years, but here I have also selected great subs. Same goes for the necklace. Happy shopping and let me know if anything works for you.
xo|AK
You Are A Goddess, So Dress Like One
I have always had a thing for what I call the Goddess Dress. I swear I think my awe of this look dates back to the iconic Columbia Pictures woman…you know, the one dressed in a goddess-y, white toga-frock and blue sash, holding the torch, flashing up on the big screen larger than life when the lights go down and the movie is just getting ready to start. (A bit of Trivia…she is called the Columbia Lady). I grew up in a family where movies were a big thing. My parents, sisters and I loved a movie outing. I can't overstate how much this became a part of our family story. It was often an everyone-pile-in-the-car event for us, even becoming a tradition to go to the movie theatre on Christmas Eve, in between meals of course 🙂 Even when I was a teenager and didn't want to be caught dead with my parents, somehow movies didn't apply. This tradition has happily endured in my family. Bert and I, Grayson, Annie and Graham love heading out for a movie whenever we can, though we seldom have the chance to do it all together as they have gotten older. So all of this is a long way of saying that I have been drawn to this look all my life, since my earliest movie going days. But I digress….
I initially saw this dress on Instagram and thought, I HAVE TO HAVE THAT! Can't remember who posted it, but thankfully she linked it up to her blog, and my fingers were instantly flying across the keyboard. Found it easily, but hell's bells, it was REALLY expensive. Not one to be easily deterred, I kept watching it. We have to be determined if we want to be goddess-like, as in shopping-warrior type goddess.It eventually went 1/2 price with very low stock, but they still had my size. Sigh… it was just meant to be. Still a splurge at half price, I hit the "CONFIRM YOUR PURCHASE" button, and I tell you this…it was worth it. I found a new happy place as soon as I pulled it over my head for the first time. That may sound silly, but when you feel good about what you are wearing, you just feel better overall. Girls like to feel pretty, and that is how this dress makes me feel. I think we can all relate to that, at least anyone reading a fashion blog post!
Let's face it ladies…there is an inner goddess in all of us. So YES, YES to the goddess dress, and here is why….its iconic design lends itself to apparel of all types and suitable for all occasions. You can see its roots in festival and maxi dresses, the fit-and-flare dress, in the tie-waist short or long day-to-evening frock as well as the evening gown. You see lots of bridal wear styled a la goddess. In the most casual or formal of pieces, there is something so classical and beautiful about the empire waist or the flowy/drapy-ness of its fabric and shape.
All of this is to say that it can be styled in multiple ways. As you can tell, I am partial to the classic white, flared sleeve, empire waist look paired with an Ancient Greek sandal, complete with flower crown, of course. And I don't think I have every had as much fun as I did during this part of this particular photo shoot, just inhabiting my own personal fairy tale for the day! Yeah, I know the flower crown is for Instagram life, not real life unless you are in a wedding, but I just couldn't resist! (Another obsession, but we will talk about that in a future post).
As far as every day styling goes, if it is time to put up the greek-inspired sandal (it's still so stinkin' hot in South Carolina), then the goddess-inspired maxi or short frock, flowy sleeve or sleeveless, is everything with the ankle bootie and can be made even more chic when layered with amoto jacket or furry vest as the weather cools. Same applies to the festival look…love a bootie or even a chunky motorcycle or cowgoddess boot for a fall football game or party. And depending on your job or daily routines, all of the above will take you from day-to-evening. Finally, needless to say, the goddess-inspired evening gown is just drop dead perfect. Thank you Columbia Lady. Most important and as you know, AK Atelier is all about fashion choices that blur the lines and crossover between age groups, body types, and personal tastes. This is a look that does just that, so when the dreaded "what am I going to wear" question rears its ugly head as you prep and primp for work or any occasion, don't forget this look! Channel your inner goddess and dress the part!
The Unstructured Dress and Fall Bootie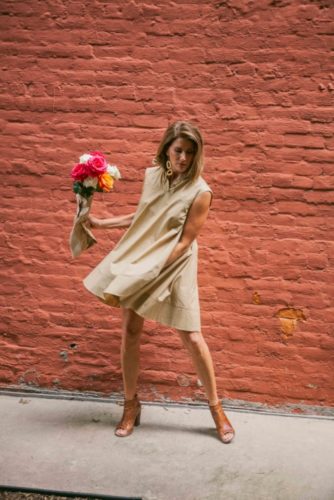 Ever have those days when your closet looks like a tornado tore through it after you have tried on 10 different outfits while trying to dash off to work or a meeting? Ever feel like torching your closet after ransacking it for the perfect ensemble for date night or an evening out with friends? I have even heard tales of people tripping over multiple pairs of shoes strewn about the bedroom when coming home after having one too many, just trying to navigate to the bed and face plant. No personal experience with that one… ha ha 🙂 Ladies, we do not have to create chaos in the closet or risk injury all in the service of being stylish. Just pull out your fall clothes, do a little smart shopping and load up on the wardrobe combo that will never fail you…the unstructured dress and ankle bootie. Be sure to have both of these staples in your closet ready to mix and match, and you have mastered the art of simple and chic fall fashion. If you like, just add a blue jean or camo jacket or vest, a smart scarf or layers of necklaces and head out the door. When the weather cools, add tights and a slouchy sweater or deep V vest for a cool layered variation. In other words, modify here and there to suit your taste, age and body type and you are set to go. Now that is the AK Atelier way!
Something to keep in mind…..expand your repertoire beyond the black and brown ankle boot. These staples will always serve you well, but don't be afraid to venture into blush pink velvet, burgundy, army green, navy and other rich colors. This will only elevate your style to a new level with this foolproof wardrobe combo, so have some fun experimenting. And please share any new finds and outfits you put together! xo|AK
The Jumpsuit Edit
Onesies, rompers, overalls, culottes. All the fashion designers must have harkened back to their collective inner child again this season, because the fall jumpsuit is still in full swing. I first blogged about this emerging trend as the new go-to piece for last spring and summer. Well, this maven of one piece dressing is topping the fashion lists for fall and winter just as prominently as it did for spring and summer. My first foray into the jumpsuit look was this past March, when I visited my daughter Annie in Austin, Texas. Our shopping sprees quickly turned into Jumpsuit Extravaganza, and thankfully it was a joint effort in the dressing room. We've all been there.. and by no means is it a deal breaker, but sometimes there is a little wrasslin' involved in getting into some of these one piece wonders. But hey, we were in Texas, so wrasslin' needed to be somewhere on the weekend agenda, right? Now be prepared, when you join the jumpsuit world, there will likely be the occasional need for a bathroom buddy, but again, not to worry, we ladies all like to look out for each other. How many times have you been out on the town in a great looking outfit and you just needed that extra pair of hands to help negotiate some hard to reach zippers or buttons? That's when your bathroom bestie, a gal you've never met before, won't talk to again, couldn't pick out from a lineup, steps up to the plate for assistance, and that friends, is a special bond. I would definitely help a fellow devotee with a zipper or two, and have come to expect the same. Girl solidarity and all that….
Bottom line, I adore one piece dressing, and the jumpsuit is all that and more. Chic and comfy, throw it on with platform heels, flats, stilettos or your favorite tennies, and you are all styled up for work or play. It truly checks all the boxes, and it just doesn't get much better than that! So whether it touches some part of our subconscious age of innocence, we just want to channel a Charlie's Angels look for the day, or we just dig the idea of one stop shopping when combing through those closet racks, it's time to add the jumpsuit to the weekly fashion repertoire. Appropriate for all ages, easily dressed up or down, effortlessly taking you from day to evening, the jumpsuit needs to be one of your major "go-tos" this season. Shop the collection below where you will find gobs of choices, some for fall and some good summer sale pieces too. READY, SET, JUMP!
Why Am I Doing This…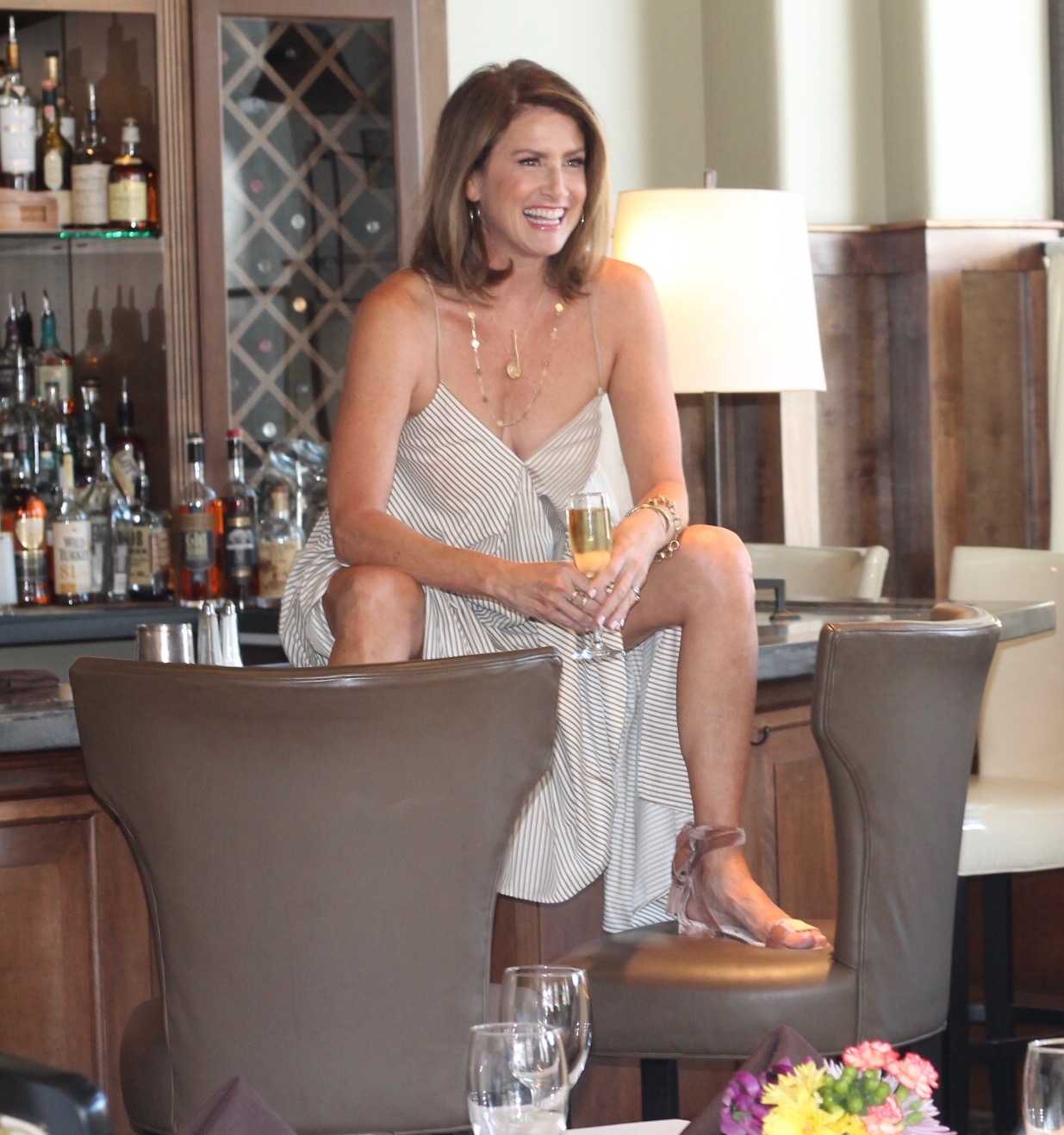 A lot of people have asked me why I have embarked upon this new blog and instagram venture. Fair question given that my career thus far has been in interior design, and a big part of Anna Kemper Atelier is fashion focused. It feels like such a natural progression for me, but in getting feedback from others, I have realized that I should share more here….invite my friends, followers and readers into my inner world a bit. For starters, there are many things about which I am passionate, and interior design and fashion are right up there at the top, just below my family, faith, friendship and my dog, Red Bean. A good French 75 cocktail, writing, reading a book on the beach, traveling and fitness rank pretty high as well. As I age, my interest in my own personal style and fashion aesthetic has not waned. Actually, it is stronger. Reflecting on the whys of this, I've realized that aging is the primary contributor here. Honestly, it never occurred to me to dial down my efforts to be stylish or to put the cabash on wearing cool clothing just because I am getting older. But I have noticed in talking to many of my contemporaries that many women in their middle years want help in this area. They want fashion advice and real life ideas for their wardrobes, but feel that there are few resources to turn to for this need. They very much want to still feel relevant in the world of personal style and fashion, and deserve to feel this way.
Times have changed. Women are more fit and healthy than their mothers' generation, particularly as they age. They care for their bodies, their skin, and their diets in exciting, innovative and continually changing ways. And they are beginning this process earlier and earlier in life, so it follows that a personal style and fashion aesthetic be part of this evolution. There are countless books, articles and magazines targeting women of all ages on skincare, food choices, fitness and wellness, and they are easily accessible, yet the same does not hold so true for fashion in our middle years. So, I am making an attempt to address this need. I am an avid follower of fashion trends, and I love going into my closet and putting together my outfit for a work meeting, a date night, an evening out with the girls, or the perfect day-to-evening ensemble for those jam-packed days when I don't have time to change between work and evening plans. It is not an obsession with appearances and acquiring things. It is very much a creative process and outlet for me, another dimension of my love for design, and I do genuinely love to share this passion and creative energy with others when asked. To give an example, my sister Jenny is one of the most stylish, creative and beautiful women, inside and out, that I know; and while she is totally in her element creating a beautifully designed home, cooking, working in the yard or arranging flowers, her creative juices aren't ramped up in quite the same way when she steps into her closet. Don't get me wrong….she has great taste in clothing and always looks amazing, but sometimes she appreciates ideas and suggestions for mixing the pieces in her closet and pulling together different outfits.
The lines have blurred between what is deemed appropriate fashion for different age groups, and those blurred lines are an area where I feel very comfortable mucking around. Blurred lines is a term and theme you will see a lot in my insta and blog posts, many of my looks will appeal to younger women as well. Another example…my nieces, Alex and Margaret, who are in their early 30s and my daughter Annie who is in her early 20s, often shop in my closet. I love that. And I like to do the same in theirs. That does not mean, in my opinion, that everything that is appropriate for a woman in her 20s or 30s is a wise choice for a woman in her 40's and 50's. But there IS a lot of common fashion ground for women of all ages, and great ways to modify and tailor certain looks and apparel selections as we age. We can still feel and look current, cool and relevant in this expansive world of fashion and personal style.
New business or creative endeavors can be scary, and yes, I am sometimes plagued with doubts as I test the waters and find my way with this new life chapter. I am having to step outside my comfort zone in a way that can appear or feel very self promotive. But self promotion is not my M.O. here. This is a creative pursuit, and I am passionate about sharing it, much the same way I am with my interior design work. I want AK Atelier to be a dynamic give and take, a forum for sharing good design, whether it be in the arena of fashion, home interiors or lifestyle. And I very much want to keep it real. All the pictures won't be pretty. I will also share the failures that inevitably will accompany the successes, although I imagine you won't need my help in detecting them! So I am going for it. I am throwing it out there and hoping that somewhere it sticks. I hope that my ideas and words will be helpful and engaging, and that I remember always to keep a good sense of humor and not take myself too seriously. But mostly I hope that you will join me on this ride, and I will be honored if you choose to do so. We are the architects of our lives, so let's continue to build our best selves as we age. We are relevant in all stages and places in our evolution as women. So let's go for it and have some fun while doing it!
Cheers! xo|AK
The White Shirt Edit
I have a lot of white shirts. I love them. They are beloved. They are like my comfort food of clothing, my adult blankie or passie if you will. Seeing those white shirts when I open my closet doors in the morning, all lined up together on their matching hangers like loyal little soldiers, just means all is going to be right with the morning. They are just so wonderfully reliable and steadfast. I know they say you can't take it with you, but I kind of want to arrive at the Pearly Gates in a white shirt, with a steamer trunk full of all my other white shirts. Maybe God and St. Peter will make a slight exception this time and let me bring my white shirts with me to Heaven. I promise I would share them with everybody. (Duh, of course you share if you make it to Heaven.) I love my white shirts so much that I have used the moniker six times in one paragraph. I am sure there's a former English teacher rolling over in her grave somewhere.
Anyway, despite whether or not I will receive this special dispensation when I move on to my next life, I want you to share my love of the iconic white shirt.It can take you to any place, at any time, at any age and at any stage your figure happens to be in. The white shirt IS blurred lines, in the form of a top. See the style shots below for some of my favorites. You can shop these and lots of others a little further down. Many of them are on sale, so you can beef up this best-of-basics in your closet. You will find that your outfit options have just increased exponentially! You can thank me later. 🙂
Happy Shopping and share any of your white shirt winners below!
Summer Sleeveless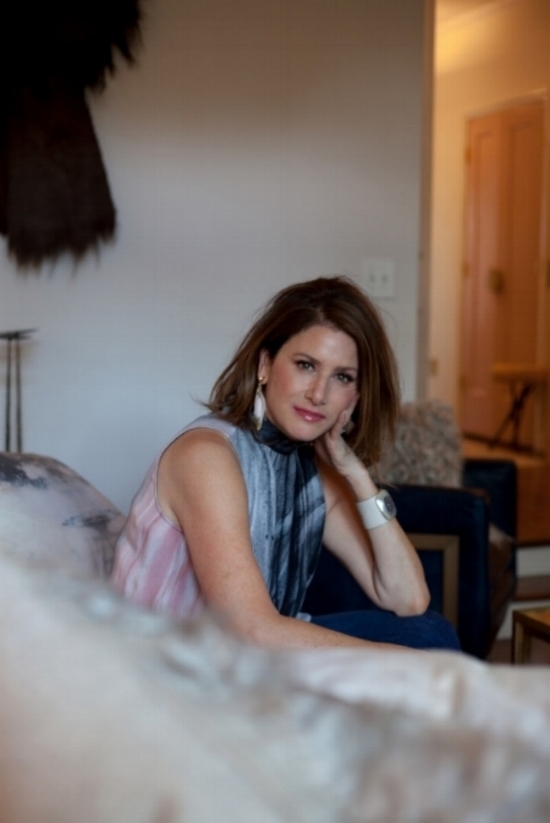 I live in Columbia, South Carolina. It is not uncommon for people to say "Oh, I went to Columbia once. That is the hottest place I have ever been."….and these are people from the likes of Arizona or Florida. I don't know why it is so hot here. There are southern cities 60-90 miles south of Columbia that are not as hot. The State newspaper sponsored a contest a while back to come up with the a city slogan that we could use for our Main Street corridor where many municipal events, street fairs and festivals are held. Well, the slogan that won was "Famously Hot". Truer words have never been spoken.
So what to do about looking good when feeling hot? Like heat hot, not smokin' hot because you are lookin' so good hot. Well my first line of defense is "don't touch me clothes", but that is for another blog post. When I have exhausted my "don't touch me clothes" for the week, or I have tired of sporting those pieces, I have two hot weather wardrobe solutions within arms reach in my closet. One is the sleeveless top paired with blue or white denim or casual trousers. I know jeans are not the optimal choice for super hot weather, but I wear them so much that I have to keep it as light as possible on top, so I need a sizeable collection of stylish, sleeveless options at the ready. This is the perfect look for those rushed mornings where you need a go-to uniform. While doing your daily switch-up of tops, keep mixing in a good variety of jewelry, handbag, and sandal selections. Voila, uniform combos are complete! Oh, and if you aren't a big fan of showing your arms, a neutral linen scarf or wrap is the perfect add-on without adding a lot of weight. Loving this look shown in the style shots below:
Take a look below at these tops that fit the bill for a hot weather fashion fix. Many of these are on sale now! Click photos to shop.
The second style solution is for those days that I need to appear more tailored or dressed up, but still want to show off a chic vibe, one that will take me from day to evening. This is when I opt for one of my all time favorite ensembles and one that is super on trend right now, from runway to street style…the sleeveless long tunic, dress or dress-length top, or long vest worn over trousers (I prefer cropped or ankle length), flowy palazzo-style pants or jeans. Find your favorites in these inspired street style photos below. Notice that heels are the preferred footwear with this look. Strappy sandals, pumps or heeled loafers will all work.
Want some shopping ideas? Most of these dress length tops are on sale now! Click on the pics below for some great pieces that will help you jumpstart your new look:
The Well Heeled Loafer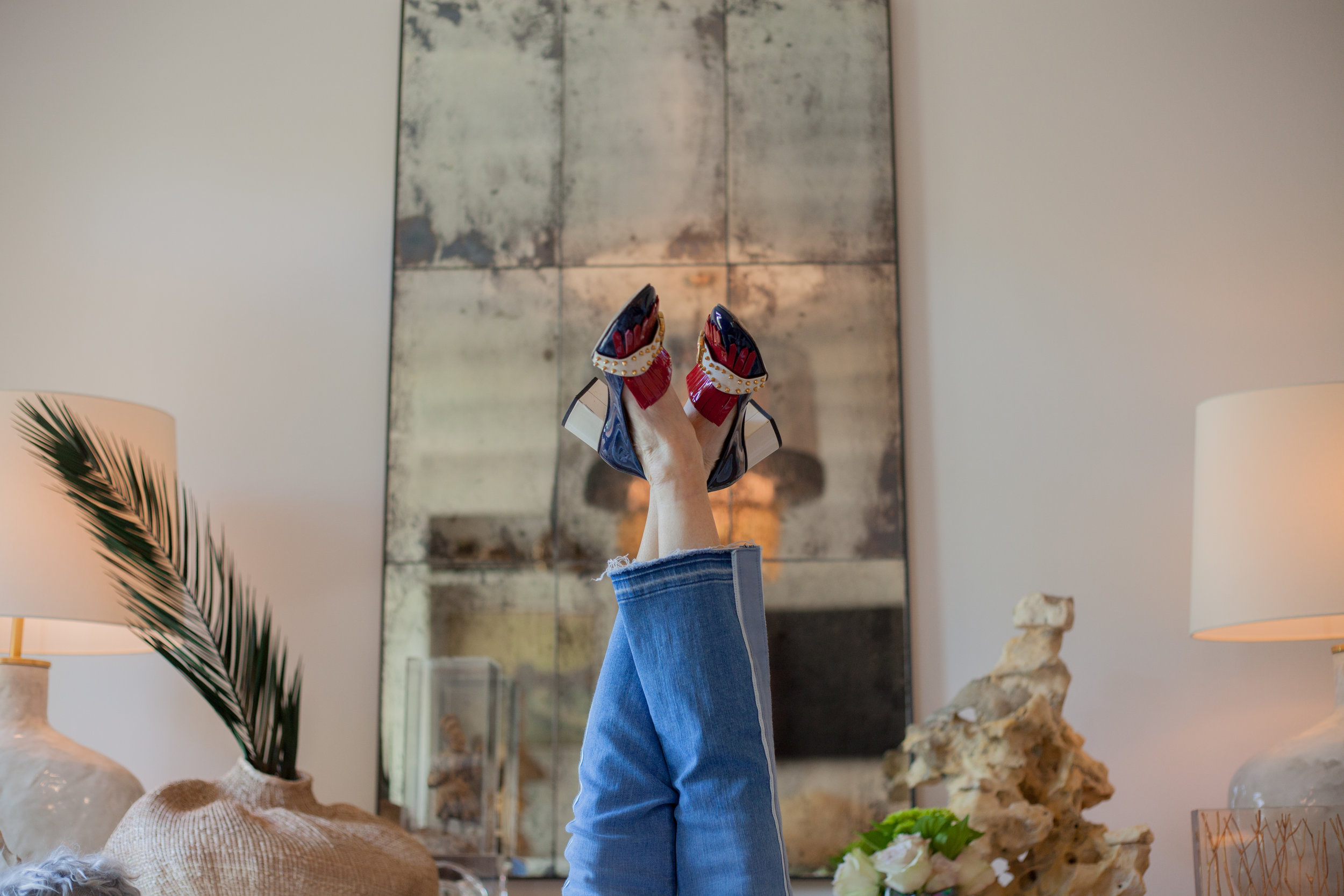 Block Heeled Loafer…huh? Brings to mind scary George Washingtonesque and pilgrimlike buckle shoes or my sweet grandmother Ethel whose swollen ankles could only handle a sturdy chunky-heel-loafer-old-lady-pump thing. Well not anymore, ladies! They are in, they are chic, and they need to be in your closet.
Check out these beauties below just to wet your appetite. Then read on…..
Those feet in the top picture. Those belong to yours truly. As you can see, my first foray into the heeled loafer was pretty much a "go big or go home sort of thing". My husband, when we were moving into a new house, somehow managed to give away a bag of all my best and favored shoes that I purposefully had garnered and put into my car for safekeeping. As in, " I see a bag of Anna's shoes. Surely she wants to donate these. Nevermind that if I take a good hard look at said contents, there might be some tiny spark of recognition that THESE ARE THE SHOES I SEE HER IN EVERY DAY. THIS MIGHT NOT BE THE DONATION BAG!!! " Anyway, that's a story for another time. And yes, we are still married and yes, I have forgiven him and yes, I still think he hung the moon. Although kind of feel like I might need to be sainted though for my benevolent and forgiving nature. But I digress. So shortly thereafter, I happened to be on the road, doing a little shopping, feeling a little shoe-less and in dire need of some retail therapy. I felt my eye, no my whole being, being drawn to a pair of patent leather, red white and blue, block heel Gucci loafers. Yep. Thats right. Like I said, go big or go home. Somehow I experienced some sort of fugue, black-out, break from reality moment, and before I knew it, they were in a smart little shopping bag, I was skipping out of the store, hopping into my little convertible roadster and was back on the road, sunnies on, scarf whipping in the wind…( I don't really have a roadster or a whipping-in-the-wind scarf, but the visual is so much better and never let the truth get in the way of a good story, right?)
So, long story long, I have worn these babies out, and if you amortize them per wear, (I think I used that term right), they were a damn bargain. Sort of. But the takeaway is, the block heeled loafer is a fashion moment waiting to happen for you no matter where your tastes lie, your stage of life or your budget. Yes! Yes! The AK Atelier blurred lines strike again (see my personal narrative if you aren't familiar). Basically that means there is something for everyone out there in the chunky heeled loafer world, so find your favorite by taking a look at these style and sourcing pics below:
As you can see from these photos and probably any others you come across, Gucci sets the gold standard for this iconic shoe, and if you and your pocketbook are so inclined, they are a purchase that you will not regret. But do not despair! Sources for the chunky heel loafer are abundant from more reasonably priced lines and stores, several of which are shown above. All you have to do is a little investigative shopping, and there are worse things to be tasked with, right?
My favorite companion to the block heel loafer? Definitely denim paired with anything on top…a cool open coat, a menswear white shirt, a chunky sweater worn with a half tuck, or a funky rock and roll tee with a cropped leather jacket. You literally have gobs of potential combinations to ensure your chic-ness for days! I also love pairing this classic shoe with jumpsuits, shift dresses, cropped flare trousers…..the possibilities are endless. So please, share your style pics and great finds in the comments below. I am on the hunt for another pair!
Photos Courtesy of : ColeHaan, Nordstrom Rack, Everlane, Boden, Net-a-Porter, Maison de Cinq, Pure Wow, Look and Fashion, The Daily Telegraph
All Things French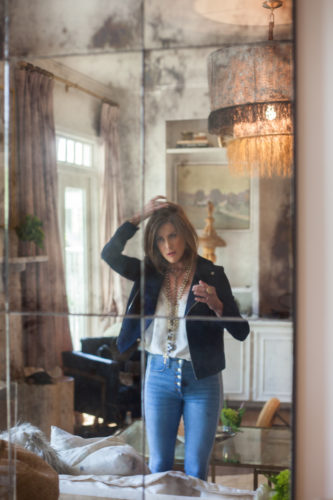 The thing about French women is that their chicness just seems so effortless. It's as if they rise out of bed and leap straight out the door with their beautiful French skin and maddeningly high cheekbones, and they haven't even yet said boo. Well, they may have skipped briefly into their sunny little kitchens with the mile high windows and whipped up a quick little cafe au lait, before their 5 minute stop by the closet to oh so casually don their kitten heels, pencil skirt and sweater, grab their dainty little handbags, dab a quick touch of lipstick and perfume behind their perfectly little pinned back French ears, and THEN head out the door. Do I sound bitter? Well, I'm not, because first of all I love all things French which includes the lovely style and aesthetic of the quintessentially fashionable "dame francaise", and because claiming the French look as one of your own go-to styles is easy and beautiful in its simplicity. And, of course, the absolute best thing about his look and why it is a huge winner is in my blog brain is because BLURRED LINES are all over it! With a few tweaks here and there, it works for all ages, body types and within your natural fashion aesthetic. Straight lines are so much more complicated.
What you need:
Kitten heels or pointy toe pumps
Flats – definitely black and other other neutrals
Simple thong sandals
Black pants
Jeans
White blouse
Navy and white striped or black and white striped cotton pullover type shirt
Blazer
Trench coat and/or leopard car coat depending on the season.
Simple pullover sweaters in neutral tones…white, black, camel, red
Cardigan sweaters
Skirt – pencil or gathered
Neck scarves
Clutch purse and/or small handbag
Sunnies
Red or pink lipstick
Nail polish, red or pink
What You Do:
As you gather up the pieces, many of which are probably already in your closet, you can go classic or street style with your new French wardrobe repertoire.
For classic French, you can almost mindlessly combine any of the above closet essentials and voila, you've gone over to the French side. Get your basics together and you can literally mix and match away. This is foolproof, I overslept, I'm-too-tired-to-think-of- what-to-wear dressing ladies.
Some examples of CLASSIC FRENCH looks:
Plain black trousers, flats, white blouse, coordinating neck scarf and handbag, trench coat over the shoulder, red lips and nails, hair in a neat pony, and sunnies. This is more of a tucked in, conservative look. Want it a little more casual? Do jeans instead of the black trousers, choose your long white blouse with a half tuck. Want to take it to dinner? Throw on kitten heels, load up on multiple strands of pearls a la Coco Chanel, wear your hair down.
Pointy toe heels, pencil skirt or gathered skirt – both need to be below the knee – crew neck sweater or crisp white blouse, pearls, simple necklace or neck scarf and coordinating clutch, cardigan tied over the shoulder for chillier weather.
Striped cotton long or short sleeve tee with a crew or polo neckline, jeans, flats or thong sandals, red or white belt, neck scarf and sunnies.
Keep makeup simple with the bright lips and nails being your pop of color.
For a more street style Parisian look, take your basics and think "funkier version of". Your jeans can have holes. Go with a leather jacket instead of the blazer, your heels can get a little funkier with gold buckles and encrusted pearls, your hand bags a little bigger and more embellished, your sweaters still solid colors but chunkier. Pile on the necklaces instead of simple pearls. BUT, and this is the kicker, DONT WEAR ALL THESE TRUMPED UP PIECES IN ONE OUTFIT IF YOU ARE GOING FOR A FRENCH FASHION AESTHETIC. Get your high style groovin' by adding one or two of these chic alternates to your French foundation, and you are ready for the streets of Paris!
Some examples of STREET STYLE FRENCH looks:
Blue jeans with holes, white blouse, neck scarf, leather jacket, simple pointy toe stilettos, chunky pearls instead of classic ones.
Cropped faded blue jeans, flats or simple sneakers with a camel colored sweater tucked in, neck scarf, neat pony and red lips.
Gathered skirt and chunky sweater instead of a simple crewneck, funkier heels, beret or neck scarf, coordinating clutch, pink lips and nails.
Leopard car coat and boyfriend jeans, with simple pointy toe high pumps, white blouse and chunky pearls. Red lips and nails. Bright funky clutch.
So get going! This one is easy. I bet you can walk into your closet right now and pull together your first French look without having to purchase a thing. And if a little shopping trip is in order to complete the look, well, now that never hurt anybody, did it?
Images courtesy of Mpire Mode – Pinterest – Damsel in Dior – Poshmark – Nordstrom – Loft – Pinterest – Pinterest – Theyallhateus – Amazing Outfits – The Stripe – Wit & Delight – Nordstrom – Tommyton – Best Products – Ebay – Glam Radar – Goop – Pinterest – Your Style Vault – Vogue – Sheer Luxe – The Cut – Universal Standard – Practically Fashion – Elle – Vogue – WhoWhatWear – Consigli x Principianti – F Yeah Sunglasses – Look du Jour – Man Repeller – Just the Design
Trend Report – Floralpalooza!
No one would ever accuse me of being a floral fanatic whether it be in fashion, home design or decor. Fresh flowers, yes, yes, yes and always! But take one look in my closet or around my house, and there is nary a floral-inspired dress, fabric, piece of art or accessory to be found. And if there is a floral motif lurking somewhere, it is so loose and abstract, that it would be up to personal interpretation, as in "is that or is that not a flower?"
That is until now. I think it's about time to rethink the whole floral thing.
Truthfully, one of my personal mantras is that we should always be willing to break our own rules. If you have happened upon my blog narrative, you know that I am not big on rules anyway, most especially when it comes to any creative endeavor. We should always be looking for ways to expand our aesthetic vision. This is how we continue to express ourselves in new, innovative ways as we dress, design and create, and to push ourselves beyond our aesthetic comfort zone. My floral hang up has been that I have too long associated them in fashion with outfits that crossed over into southern belle territory, scary ruffles and and floral chintz chairs somehow trying to pass themselves off as skirts. Not anymore. Flowery apparel is right in line with the blurred lines of the AK Atelier fashion ideology. So no matter your age or where your clothing tastes lie, spring and summer flowers are blooming outdoors, and they need to be blooming in our closets too! Don't be a fashion spectator. Come along with me and lets take the floral challenge together!
Let's start with fashion.
Here are some ways I am introducing this hothouse trend into my wardrobe: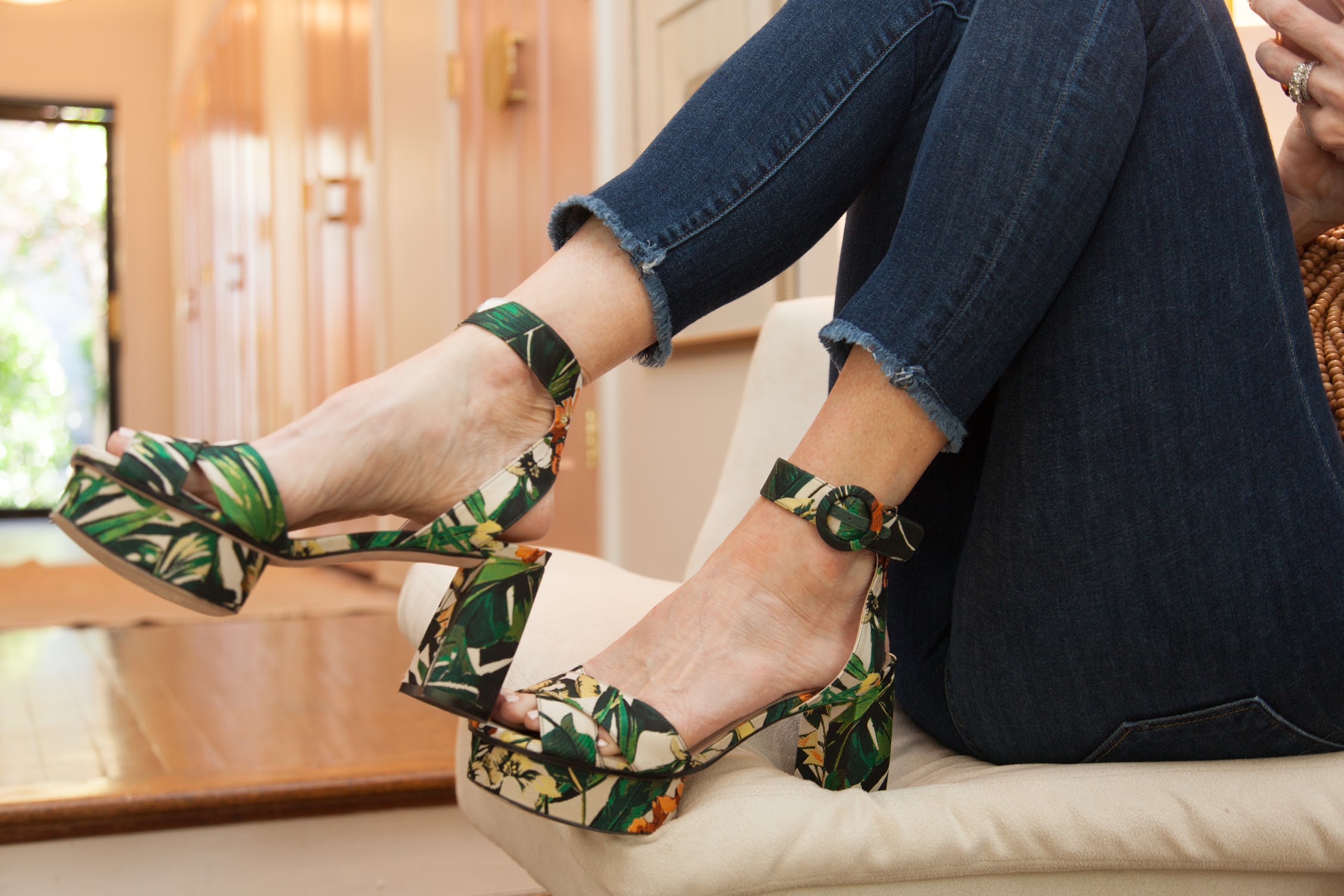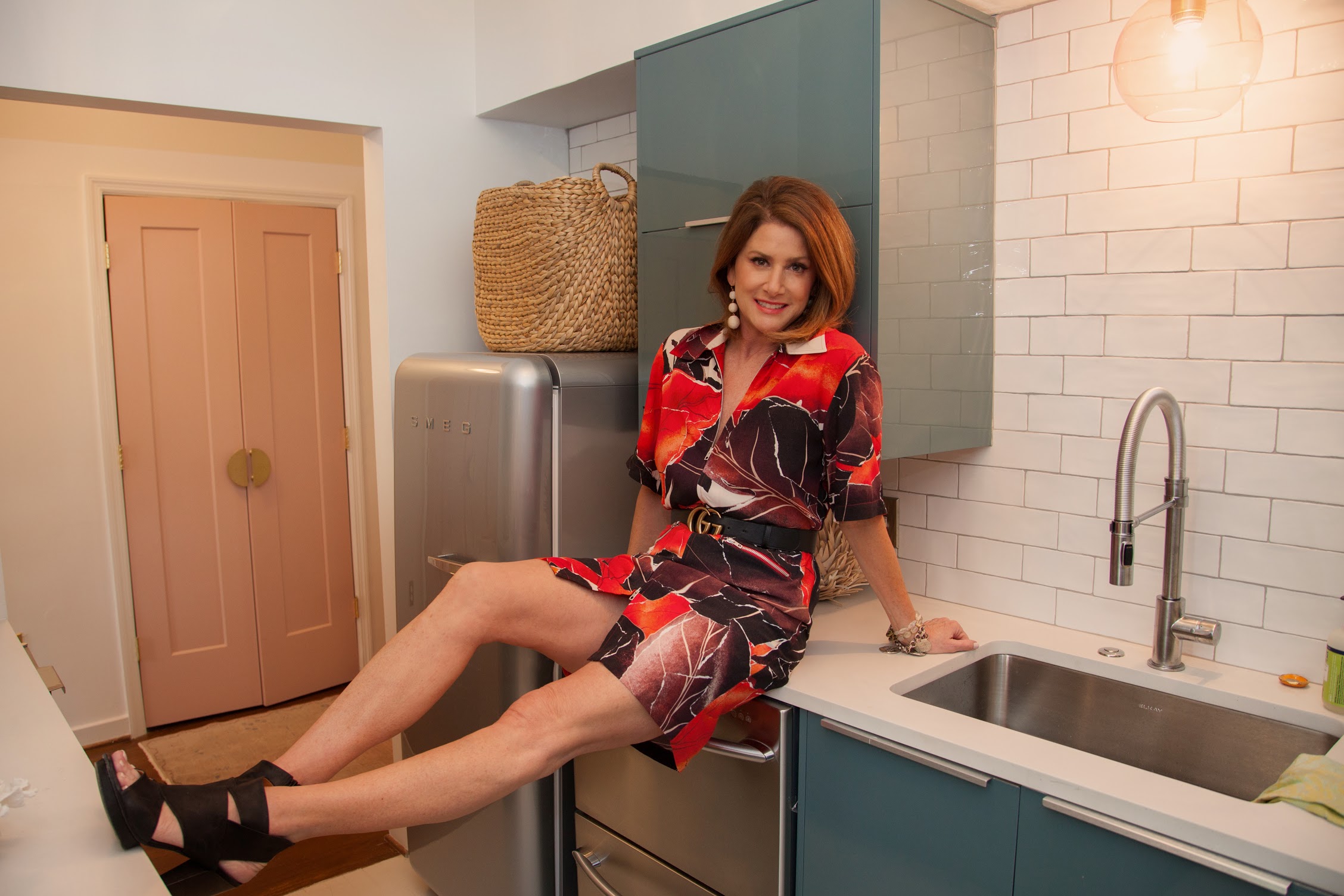 Below are three jaw dropping floral-chic looks. Personal wardrobe goals: long coat and cool trousers sporting this hot trend. Will keep you posted on my progress…
Here are some style shots to motivate and inspire you in the AK Atelier Floral Challenge! Share your style pics below or tips/tricks on how you incorporate a floral motif in your daily garb.
Photos Courtesy of Sheer Luxe, Lola Cruz, Zara, Shopbop, Flory Day, The August Diaries, Boho Moments, Pasa Boho, Obsev, Asos, OK Chikas, Zorket.