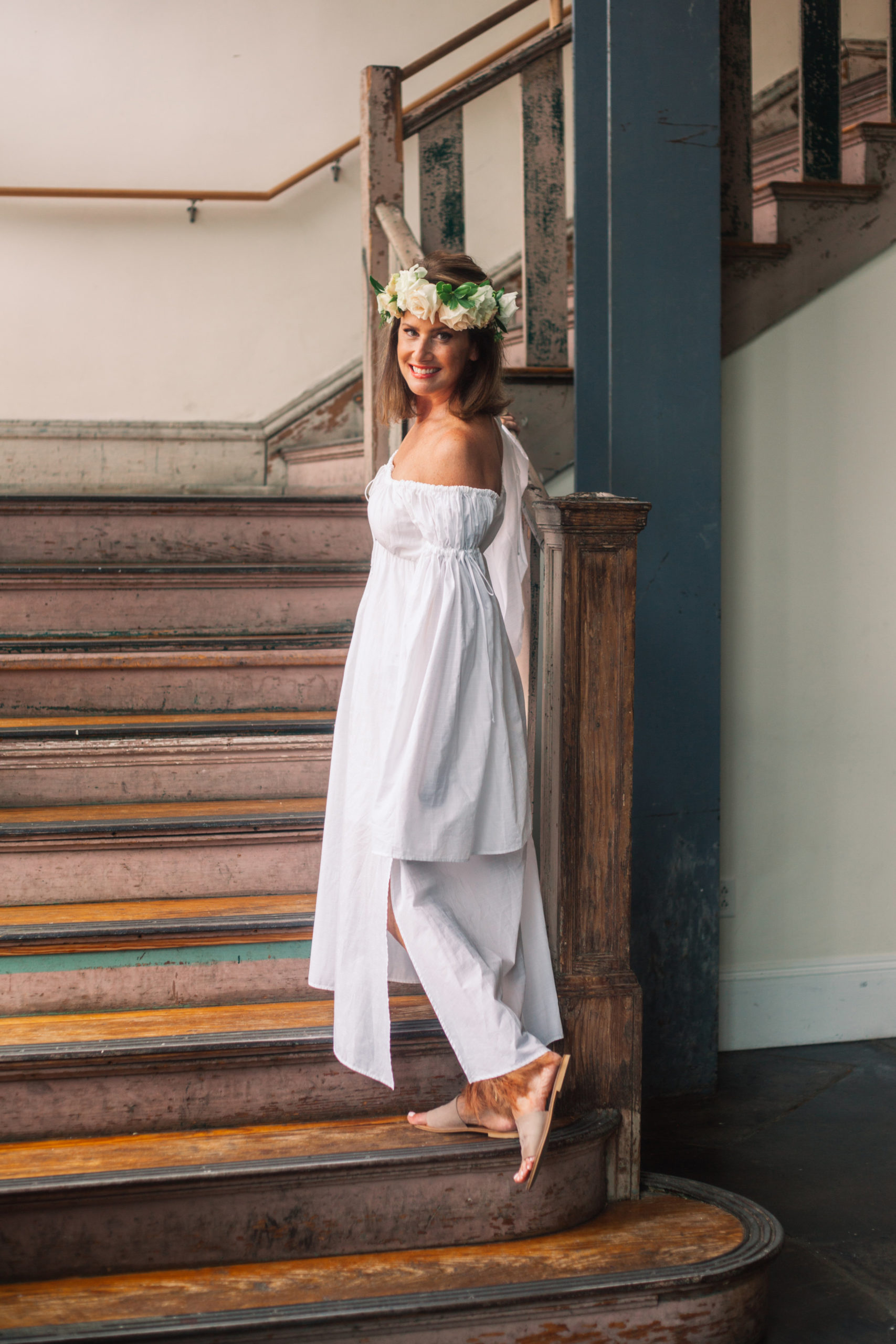 You Are A Goddess, So Dress Like One
I have always had a thing for what I call the Goddess Dress. I swear I think my awe of this look dates back to the iconic Columbia Pictures woman…you know, the one dressed in a goddess-y, white toga-frock and blue sash, holding the torch, flashing up on the big screen larger than life when the lights go down and the movie is just getting ready to start. (A bit of Trivia…she is called the Columbia Lady). I grew up in a family where movies were a big thing. My parents, sisters and I loved a movie outing. I can't overstate how much this became a part of our family story. It was often an everyone-pile-in-the-car event for us, even becoming a tradition to go to the movie theatre on Christmas Eve, in between meals of course 🙂 Even when I was a teenager and didn't want to be caught dead with my parents, somehow movies didn't apply. This tradition has happily endured in my family. Bert and I, Grayson, Annie and Graham love heading out for a movie whenever we can, though we seldom have the chance to do it all together as they have gotten older. So all of this is a long way of saying that I have been drawn to this look all my life, since my earliest movie going days. But I digress….
I initially saw this dress on Instagram and thought, I HAVE TO HAVE THAT! Can't remember who posted it, but thankfully she linked it up to her blog, and my fingers were instantly flying across the keyboard. Found it easily, but hell's bells, it was REALLY expensive. Not one to be easily deterred, I kept watching it. We have to be determined if we want to be goddess-like, as in shopping-warrior type goddess.It eventually went 1/2 price with very low stock, but they still had my size. Sigh… it was just meant to be. Still a splurge at half price, I hit the "CONFIRM YOUR PURCHASE" button, and I tell you this…it was worth it. I found a new happy place as soon as I pulled it over my head for the first time. That may sound silly, but when you feel good about what you are wearing, you just feel better overall. Girls like to feel pretty, and that is how this dress makes me feel. I think we can all relate to that, at least anyone reading a fashion blog post!
Let's face it ladies…there is an inner goddess in all of us. So YES, YES to the goddess dress, and here is why….its iconic design lends itself to apparel of all types and suitable for all occasions. You can see its roots in festival and maxi dresses, the fit-and-flare dress, in the tie-waist short or long day-to-evening frock as well as the evening gown. You see lots of bridal wear styled a la goddess. In the most casual or formal of pieces, there is something so classical and beautiful about the empire waist or the flowy/drapy-ness of its fabric and shape.
All of this is to say that it can be styled in multiple ways. As you can tell, I am partial to the classic white, flared sleeve, empire waist look paired with an Ancient Greek sandal, complete with flower crown, of course. And I don't think I have every had as much fun as I did during this part of this particular photo shoot, just inhabiting my own personal fairy tale for the day! Yeah, I know the flower crown is for Instagram life, not real life unless you are in a wedding, but I just couldn't resist! (Another obsession, but we will talk about that in a future post).
As far as every day styling goes, if it is time to put up the greek-inspired sandal (it's still so stinkin' hot in South Carolina), then the goddess-inspired maxi or short frock, flowy sleeve or sleeveless, is everything with the ankle bootie and can be made even more chic when layered with amoto jacket or furry vest as the weather cools. Same applies to the festival look…love a bootie or even a chunky motorcycle or cowgoddess boot for a fall football game or party. And depending on your job or daily routines, all of the above will take you from day-to-evening. Finally, needless to say, the goddess-inspired evening gown is just drop dead perfect. Thank you Columbia Lady. Most important and as you know, AK Atelier is all about fashion choices that blur the lines and crossover between age groups, body types, and personal tastes. This is a look that does just that, so when the dreaded "what am I going to wear" question rears its ugly head as you prep and primp for work or any occasion, don't forget this look! Channel your inner goddess and dress the part!
«
The Unstructured Dress and Fall Bootie
-
Easy Party Outfit
»