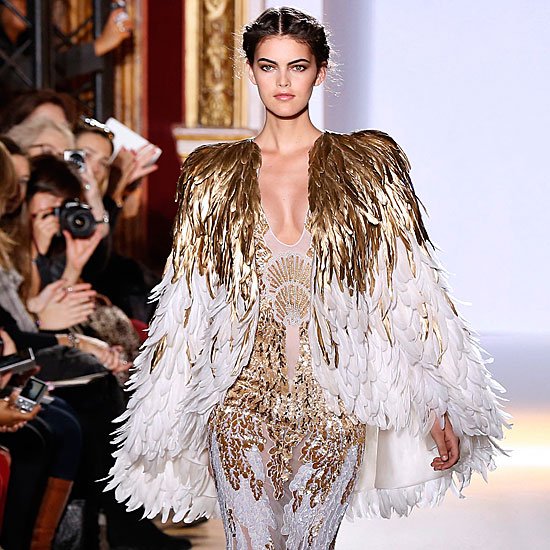 Let's Get Real about Feathers
I am forever inspired by feathers. They are just so …. feathery. Their colors are boundless, their textures wonderfully varied, and their inherent design dizzyingly delectable. Why are so feathers so perfect? Look no further than Mother Nature, I always say she is the best designer of all.
To me, feathers exemplify the essence of my aesthetic message. Why? Because they represent the often blurred lines between all facets of design, particularly home and fashion. Their look is timeless and knows no age boundaries, and being an organic element, they can be "that thing" that separates the men from the boys in upping your style quotient. Here you see one of my favorite pieces of art… rose colored feathers topped with a gold valance, framed in acrylic. Feathers, gold and acrylic….can you think of a better combo to enhance your home decor? And check out my two favorite pair of feather earrings. They sit front and center in my jewelry box as a quick fashion fix for added style. When wearing feather earrings, let them be the hero. Keep necklaces minimal such as simple beads or a dainty gold pendant.
In decorating, the airiness of the ostrich feather added to a pillow or as trim for a throw is perfection. Or the lush density of color all packed into one little peacock feather just totally nails it. So pluck that peacock and arrange your little treasures on a canvas or dechaled edge paper and stand back to admire your new piece of art. Trim your white linen curtains with guinea fowl feathers and you have elevated your black and white palette with texture and organic luxury. Dangly feather earrings will never fail to bring you compliments, especially with your favorite up do. Add a pop of feathers to the hem of your silky cami or ostrich around the cuff of your fitted turtleneck sweater, and you have just turned a basic staple into something so much more chic. If you're more of a tailored gal, just clip a feather accent to the toe of your favorite black pumps or add a feather lapel pin to your go-to blazer and you have finessed some major flair with one simple touch. No fashion faux pas here ladies… the feather world is beckoning you. See these style shots below for a little feather inspo. Fear not and take flight!
Images courtesy of JCrew – Erineverafter – Shopbop – Vestiaire Collective – Krikor Jabotian – Pinterest – Saks Fifth Avenue – MACK Home – Andrew.martin.uk
«
Easy Party Outfit
-
Pink and Red
»