HIGH MAINTENANCE….A HAIR STORY
Problem – Curls gone wild
I have REALLY high maintenance hair. Naturally wavy and curly hair is beautiful on many people. Me? Not so much. If I don't blow-dry my hair or, heaven forbid, I sleep on it wet, my natural waves and curls take on a life from another planet. The same situation applies if I go to the beach. That first morning glance in the mirror reveals not soft ringlets and piece-y waves, instead I behold patches of frizz, curls gone wild, a rogue horn or two and some kind of bouffant-do gone way wrong. I just like to look at that girl in the mirror and say, and I do it very politely, I.DON'T.KNOW.YOU. But, alas, my good friend denial turns out not to be so helpful on the hair front because my days are crazy and if I'm lucky my nights may be too! Got to have good hair….what to do?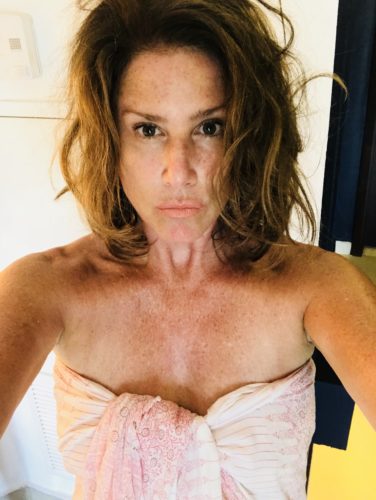 AK Atelier Solution
OUTSOURCE whenever you can. I don't have the kind of hair that has to be washed every day, so I go to Kim for a blow out once a week. She has been doing my hair for over 20 years. We don't have to discuss a thing. I just plop down, and she works her magic. Puts a little drag on the pocketbook, so I try to make it last as long as possible. If I put a value on my time, for me it is more cost effective to have several good hair days là Kim than spend gobs of time trying to wrangle this wild hair myself. Plus, who doesn't feel good after a blow out?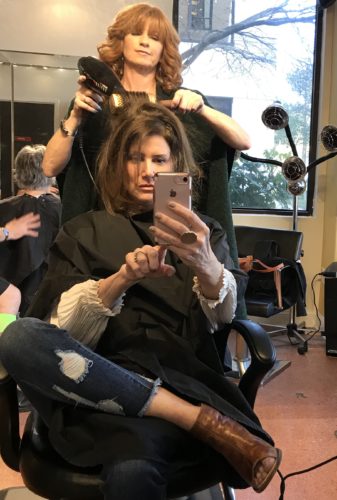 Total Gamechanger
Now I am a real human with tamed hair that can be seen outside the confines of my house. I love taking Kim's blow out and making it my own by keeping it piece-y and messy, see below. Always fluffing and touching for maximum volume!
Ahh….Much better. Love that Kim.
BUT since I don't see a daily, personal hairdresser in my future any time soon (wouldn't that be great!), I have found some great PRODUCTS that help me get that freshly blown out look as best I can. And believe me, I have tried everything. My go-to's are pictured below, and I have an arsenal of them. I can wage war on this head of hair with these great lotions, potions, sprays and tools any day, or at least on a non-Kim day!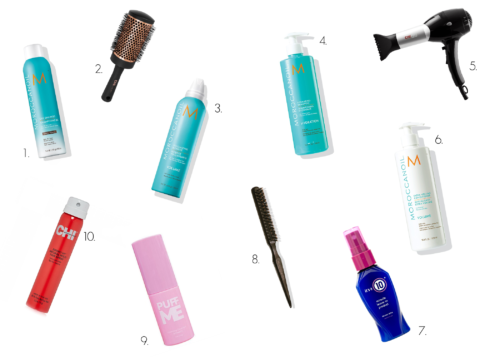 1. Moroccanoil Dry Shampoo – $26.00
This works wonders. If I want to stretch out the professional blow out a little longer, just give this a try. I think it is far superior to other dry shampoos.
2. Chi Large Round Brush – $18.74
3. Moroccanoil Volumizing Mousse – $28.00
4. Moroccanoil Hydrating Shampoo – $40.00
5. Chi Pro Hair Dryer – $159.96
I have found that a hair dryer is not a hair dryer is not a hair dryer. Invest in a good one. Well worth it!
6. Moroccanoil Extra Volume Condition – $43.00
7. Miracle Leave-in Product – $12.33
8. Moroccanoil Boar Brush – $26.00
9. Puff Me Volumizing Cloud Mist – $17.54
This is a texturizing powder that is small enough to put in your handbag. If your hair needs a little body at the end of a long day, you just shake a little of this on your roots where you want a little lift and run your fingers through. Works wonders.
10. CHI Enviro Natural Hold Hairspray – $6.93
Would love to know what works for you other hair challenged peeps? Please comment below with any product or styling tips. After all, more hair knowledge = more hair power!
«
Pasta for the Culinary Challenged
-
Blue Jeans & White Shirts
»