Blue Jeans & White Shirts
The most basic of outfits, the easiest pairing to pull out of your closet. The BLURRED LINES of this classic duo are practically dizzying with possibilities for all age groups and personal tastes. So how do you MIX IT UP to create multiple go-to outfits from this quintessential combo ….by getting creative with what you MIX IN.
Closet Essentials
Lets start with an AK Atelier list of closet essentials:
Jeans, of all style – high waist, mid rise, low rise, with and without holes, raw edge or hemmed, cropped and full length. Build up your arsenal here!
White button downs, one classic cut and one a little longer.
Silky white tops – long sleeve, short sleeve and a lacy white cami.
Cropped jacket. Leather or faux leather for the colder months, lighter weight fabric for the warmer months.
Blazer
Vests – leather, faux leather, shearling and/or fur, short or long. These add great texture and that extra style punch. Try a long microfiber or ultrasuede for a lighter look.
White tees. V neck and Crew neck. As many as you can get your hands on.
Chic flats
Booties and/or knee boots
High heel pumps and strappy sandals
Flat sandals
Block heeled or flat loafers and/or brogues
Block heel pumps or sandals
Athleisure shoes
Belt
Want Some Outfit Examples?
Go biker chic by pulling out your holey denim, adding a leather jacket and motorcycle boots or your favorite rock stud booties. Any white top will do, but for a sexier look for evening, go with the silky white cami. Think "more is more" with the jewelry by piling on multiple chunky brass necklaces and leather chokers, metal or leather cuffs mixed with bangle bracelets. Take along those stiletto pumps or strappy high heel sandals and you can are covered from dawn til dusk.
Go more more tailored with a crisp white button down or silky top and throw on a blazer. Tuck the shirt in or let it hang out beneath the blazer or do a half tuck for a more relaxed look. Don't forget your belt. Keep it sassy by layering in beaded necklaces of varying sizes. Finish up with the feet in a chunky heeled loafer, a cool brogue, knee boots or pointy toe heels.
Dress down for casual Friday or Saturday shopping with your denim, a white T, your favorite belt, and platform tennies. Pull hair into a chic ponytail, add hoop earrings, and you are ready for brunch and errands. Throw some chic pointy flats in your backseat with a cropped jacket or trench coat, and you have just taken laid back brunch garb to dinnertime chic.
Experiment with any of the above basics or combos, and you are well on your way to creating your signature looks. You've got the tools, so start building! Here's how I have added in to this basic combo to create my own look…. by layering in mixed metal and bone beaded necklaces, a lacy white cami, and a navy military-inspired jacket. The retro loafers really can go day to night, but I have some fabulous red, strappy, lace-up high heel sandals if I want to kick it up a bit for a night out. If I want to funk it up even more as I head out, I can make a simple switch to boyfriend or holey jeans, creating a more casual but very chic look. The options are endless and virtually foolproof. And check out the street style shots as well for some great inspiration. Comment below with your ideas or post your new looks and tag @anna.kemper.atelier!
Have fun!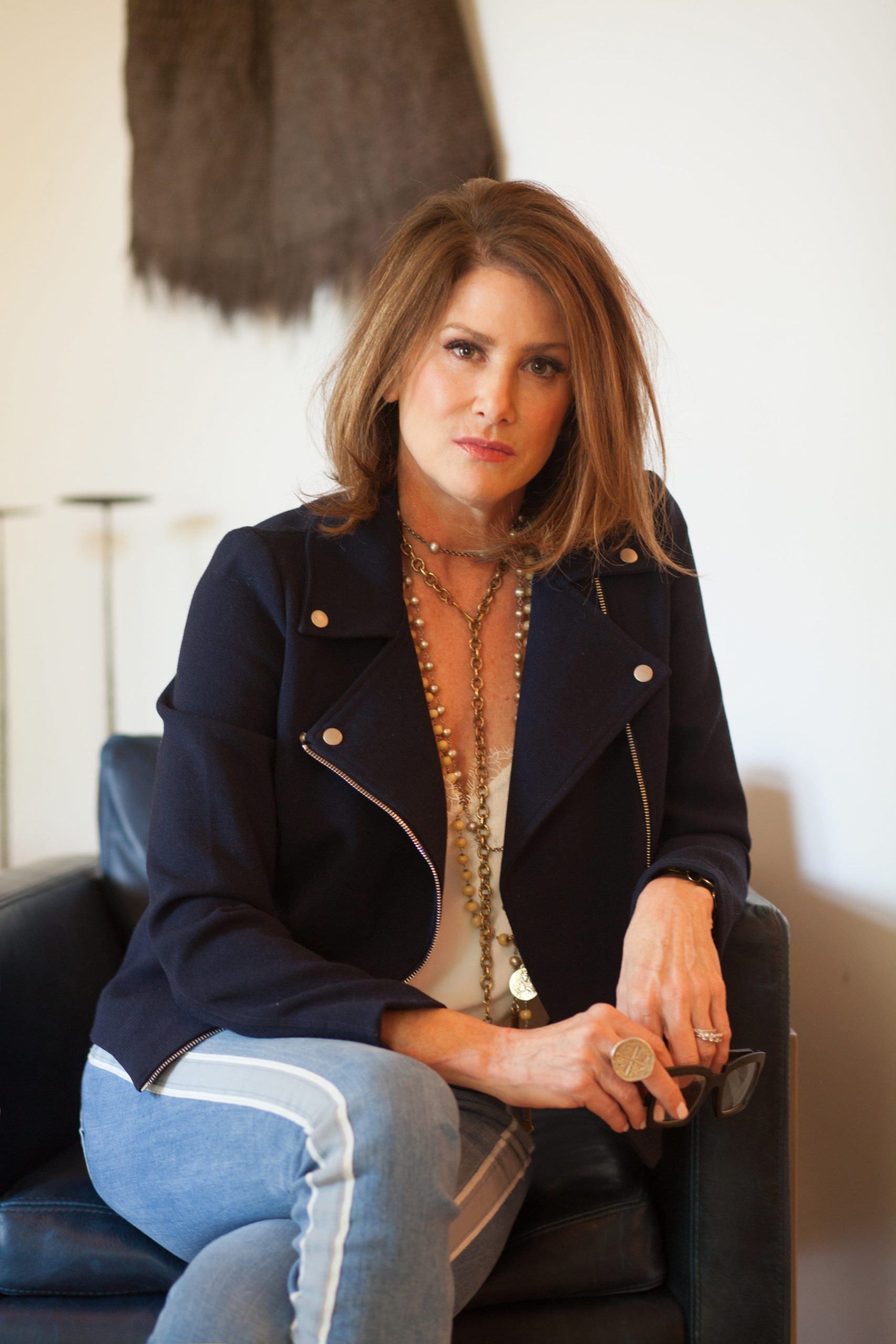 Style Splurges
If you are able and so inclined, splurge on a few foundation elements for this look. I would say the shoes, belt and jacket/blazer/vest layering pieces. They will last forever.
1. I just recently scored a Gucci belt on Poshmark for a fraction of the retail price. It will be a staple for years to come.
2. We had a little incident in my family we like to refer to as Shoegate. I now can look back and laugh, but long story short, every single pair of my prized shoe collection was accidentally donated. Before it was happily and luckily resolved, I did end up with an awesome pair of Gucci retro-inspired red white and blue patent loafers that I have worn over and over and will continue to for years. They are literally a show stopper. I can't walk 20 feet without someone commenting on them. It was kinda worth it.
3. I bought a cropped shearling vest at one of my favorite stores in Charlottesville, Virginia, @thinkscarpa, about 5 years ago. It was a major splurge for me, and I still wear it to death. Well worth the investment.
Not a splurge kinda gal? No worries, there are endless fast fashion brands that give you the same looks and don't put a drag on your pocketbook. Check out Zara, H&M, ASOS, and Nordstrom Rack.
Images Courtesy of Pinterest – Pinterest – Everlane – Cleantechagency – Portugal Shoes – Shape – Liliana – Ssense – Browns – Sole Society – Pinterest – Es La Moda – Scarpa Rosa – Couturezilla.com – theyallhateus.com – sayyes.com – harper's bazaar – lookastic.com – coolchicfashion.com
«
HIGH MAINTENANCE….A HAIR STORY
-
Trend Report – Floralpalooza!
»