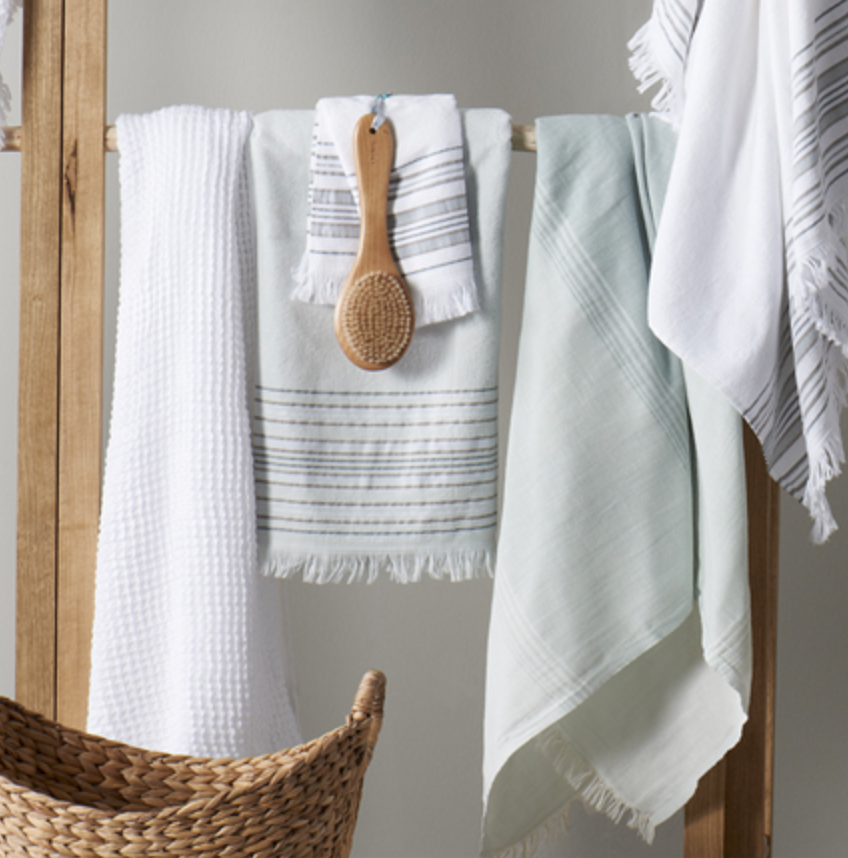 Let's Talk Turkish
A modern twist on those after shower essentials…
What every woman should have on their bathroom hook as they step out of the shower is a …. no, not a fluffy towel and your favorite robe. Let's mix it up a bit with a Turkish towel and a lightweight cotton sarong. But before you worry that you just can't part with that teddy bear of a towel and and your morning uniform, let me tell you why this is my go to!
Here's the secret : Turkish towels are amazingly absorbent.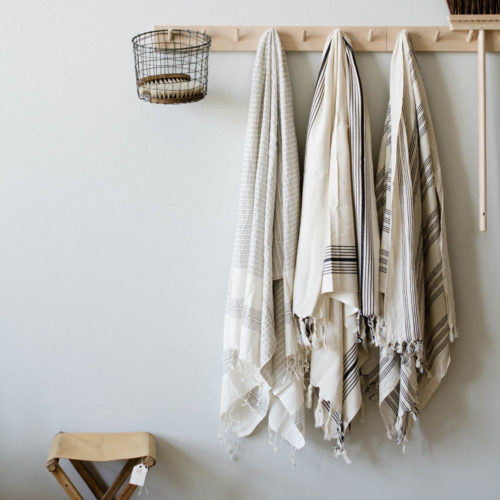 Granted they may take a little getting used to because they aren't as fluffy as their traditional counterparts, but if you make the switch you may never go back. The Turkish towel just soaks up the water off your body like a greedy little sponge, while the traditional towel sometimes rubs the water around while you're trying to soak up and dry your little tush. And of course, I just can't resist their chic and exotic details. The sassy fringe and subtle color and stripe combinations makes them the show off of towels. I have to admit, on occasion I like a show off… much easier to get away with if you are a towel.
The cotton sarong or pareo is now my go-to instead of even the lightest weight robe. Who hates sweating while they are getting ready for work or going out? Me too. And for those of you who have at some point made the acquaintance of a hot flash, you now can fight back with just a cute little swath of cotton. Just tie on the sarong strapless dress style or crisscross and tie behind the neck and you've scored a three for one deal…good coverage, sweat free primping and yes, you guessed it, style points! And wait, there's more. These little beauties pull double duty as your beach cover up and can be styled so many different ways. Seriously, I have a vast collection of these and they last for years! Ok, this is beginning to sound a bit like an infomercial so let me just leave you with a few sourcing tips and fun style pics and then I can move on to ginsu knives and bamboo steamers. Ba ha ha. 🙂 (google it if you are too young to get that one).
For Sarongs:
Graham Kandiah – (pronounced can-dee-uh) I love that name…. She has moved on to other things but you can still find her pieces on Ebay or Poshmark….Snatch them up and I promise you will not be disappointed!
Another great online source for Indian cotton pareos and sarongs is West Indies Wear. Shop here: https://www.shopwestindieswear.com/collections/beach-sarongs?page=2
For Turkish towels:
MACK Home – Our website is currently being updated but we constantly carry these popular towels. Feel free to give us a call, we are happy to ship! 803-790-9911, mackhomecolumbia.com
Image Courtesy of MurLifeStyle – Jcrew – Carrie Bradshaw Lied – QuiQuattro – Revolve – Perpetually Chic – Living Nectar – Jones Design Company
«
Desert Chic
-
The Mystical Macaron
»