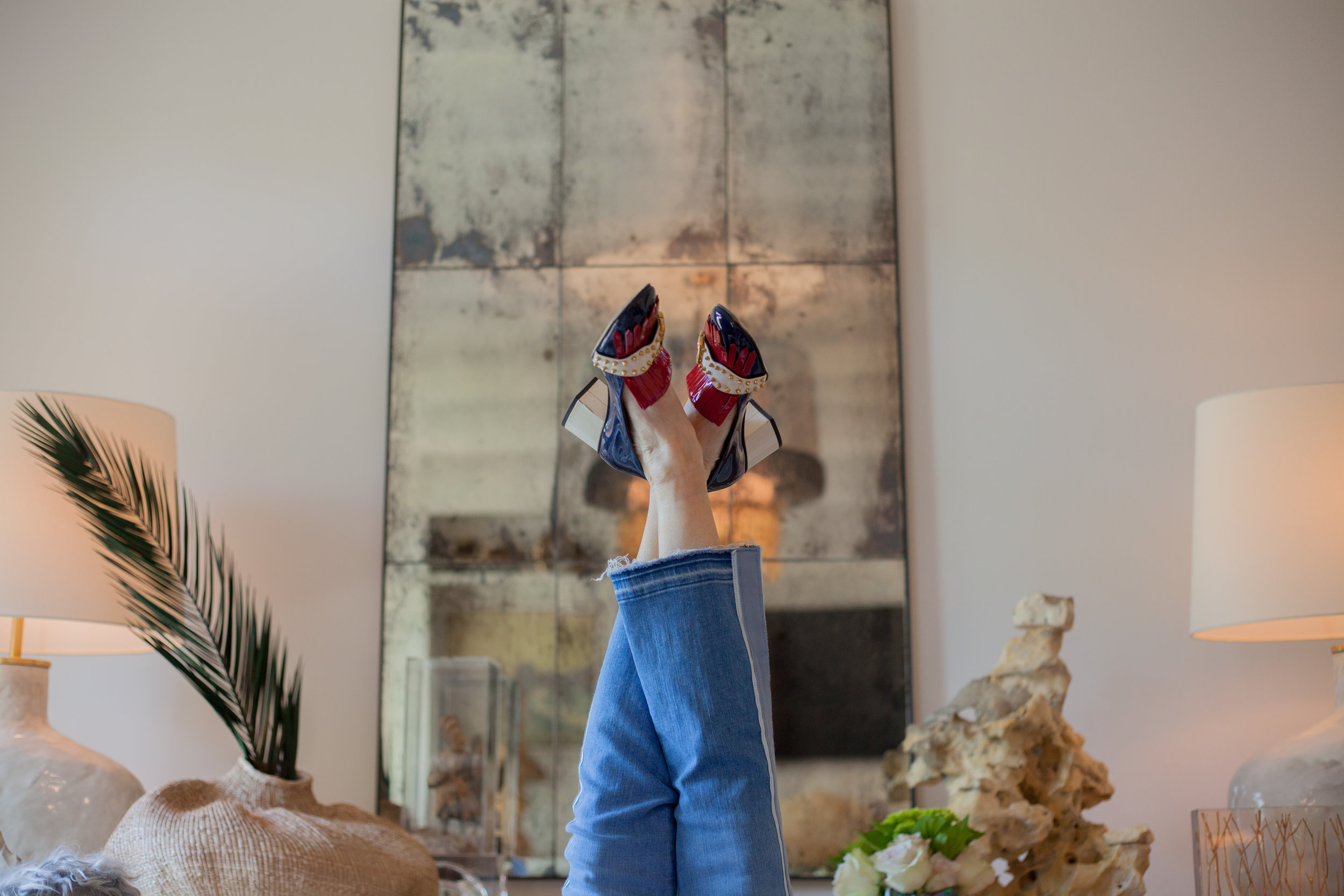 The Well Heeled Loafer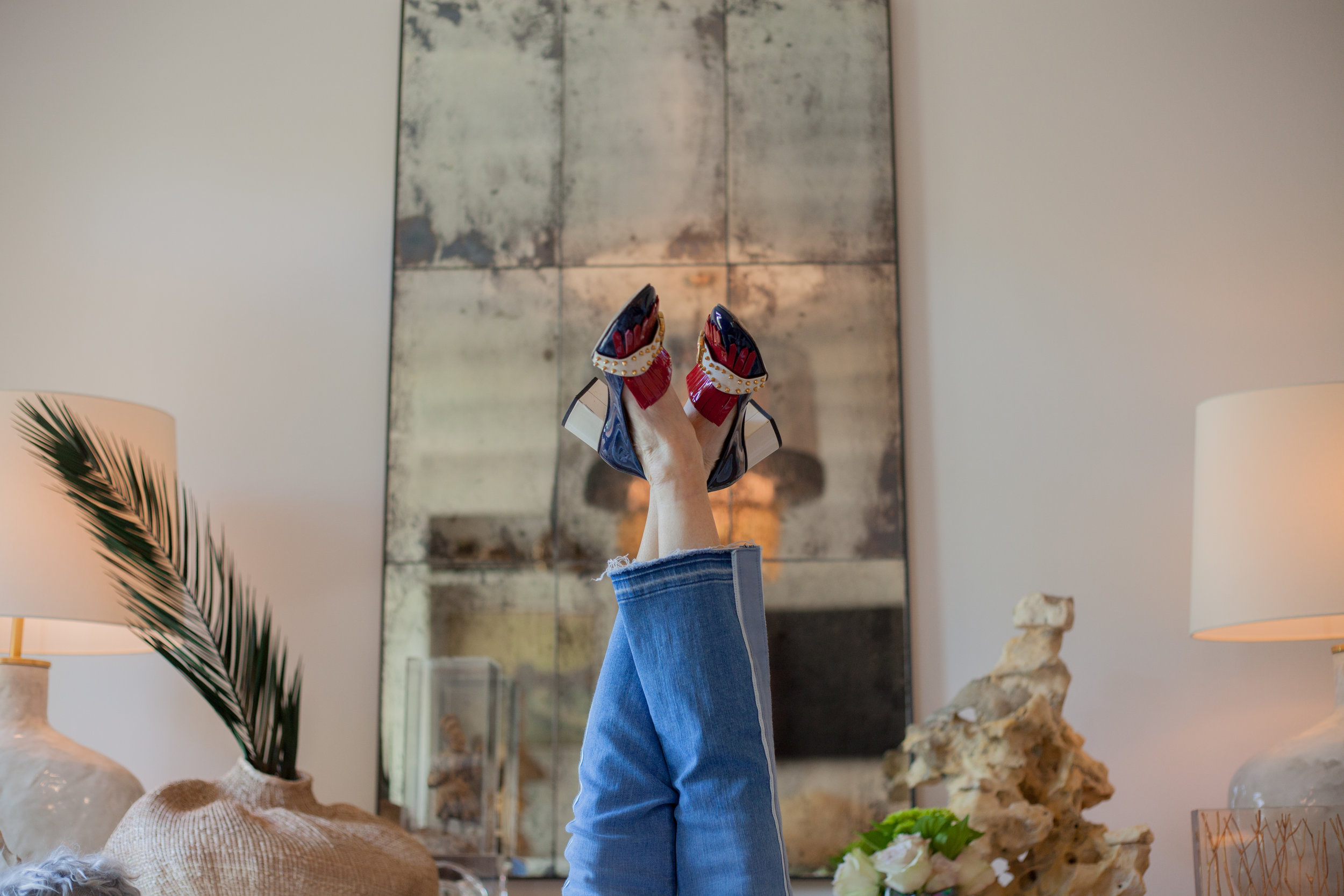 Block Heeled Loafer…huh? Brings to mind scary George Washingtonesque and pilgrimlike buckle shoes or my sweet grandmother Ethel whose swollen ankles could only handle a sturdy chunky-heel-loafer-old-lady-pump thing. Well not anymore, ladies! They are in, they are chic, and they need to be in your closet.
Check out these beauties below just to wet your appetite. Then read on…..
Those feet in the top picture. Those belong to yours truly. As you can see, my first foray into the heeled loafer was pretty much a "go big or go home sort of thing". My husband, when we were moving into a new house, somehow managed to give away a bag of all my best and favored shoes that I purposefully had garnered and put into my car for safekeeping. As in, " I see a bag of Anna's shoes. Surely she wants to donate these. Nevermind that if I take a good hard look at said contents, there might be some tiny spark of recognition that THESE ARE THE SHOES I SEE HER IN EVERY DAY. THIS MIGHT NOT BE THE DONATION BAG!!! " Anyway, that's a story for another time. And yes, we are still married and yes, I have forgiven him and yes, I still think he hung the moon. Although kind of feel like I might need to be sainted though for my benevolent and forgiving nature. But I digress. So shortly thereafter, I happened to be on the road, doing a little shopping, feeling a little shoe-less and in dire need of some retail therapy. I felt my eye, no my whole being, being drawn to a pair of patent leather, red white and blue, block heel Gucci loafers. Yep. Thats right. Like I said, go big or go home. Somehow I experienced some sort of fugue, black-out, break from reality moment, and before I knew it, they were in a smart little shopping bag, I was skipping out of the store, hopping into my little convertible roadster and was back on the road, sunnies on, scarf whipping in the wind…( I don't really have a roadster or a whipping-in-the-wind scarf, but the visual is so much better and never let the truth get in the way of a good story, right?)
So, long story long, I have worn these babies out, and if you amortize them per wear, (I think I used that term right), they were a damn bargain. Sort of. But the takeaway is, the block heeled loafer is a fashion moment waiting to happen for you no matter where your tastes lie, your stage of life or your budget. Yes! Yes! The AK Atelier blurred lines strike again (see my personal narrative if you aren't familiar). Basically that means there is something for everyone out there in the chunky heeled loafer world, so find your favorite by taking a look at these style and sourcing pics below:
As you can see from these photos and probably any others you come across, Gucci sets the gold standard for this iconic shoe, and if you and your pocketbook are so inclined, they are a purchase that you will not regret. But do not despair! Sources for the chunky heel loafer are abundant from more reasonably priced lines and stores, several of which are shown above. All you have to do is a little investigative shopping, and there are worse things to be tasked with, right?
My favorite companion to the block heel loafer? Definitely denim paired with anything on top…a cool open coat, a menswear white shirt, a chunky sweater worn with a half tuck, or a funky rock and roll tee with a cropped leather jacket. You literally have gobs of potential combinations to ensure your chic-ness for days! I also love pairing this classic shoe with jumpsuits, shift dresses, cropped flare trousers…..the possibilities are endless. So please, share your style pics and great finds in the comments below. I am on the hunt for another pair!
Photos Courtesy of : ColeHaan, Nordstrom Rack, Everlane, Boden, Net-a-Porter, Maison de Cinq, Pure Wow, Look and Fashion, The Daily Telegraph
«
All Things French
-
Summer Sleeveless
»